Why Even More People Suddenly Have Hypertension - What Happened?
7 years ago |
Hypertension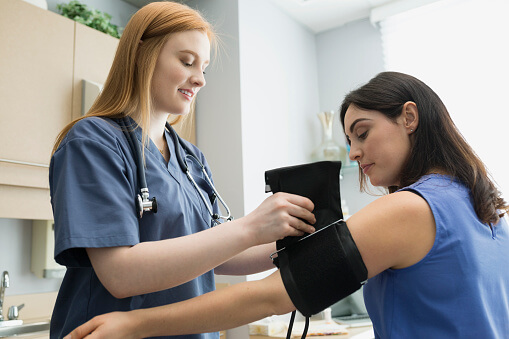 By Joy Stephenson-Laws, J.D. Founder
Nearly half of American adults may now have hypertension (high blood pressure), according to new diagnostic guidelines released this past Monday.
For the last 14 years, the determination for hypertension status used to start at a blood pressure reading of 140/90 or higher. Now, what is classified as hypertension is a blood pressure reading of 130/80 or higher.
The upper number in a blood pressure reading is called the systolic blood pressure. This number indicates how much pressure your blood is exerting against your artery walls when your heart beats. The lower number is the diastolic blood pressure, which indicates how much pressure your blood is exerting against your artery walls while your heart is resting between beats.
The best way to determine if you have a high blood pressure is to get tested by a doctor or medical professional. There are at-home kits you can use, but you may want to use these as a tool to check your blood pressure in between doctor visits.
Persistent elevated blood pressure may cause clogged arteries, heart attacks or strokes. It may also damage blood vessels, causing kidney impairment, loss of vision, erectile dysfunction, memory loss, fluid in the lungs, angina and peripheral artery disease. Hypertension essentially causes the heart to work too hard and make the blood vessels not work as well as they should.
It has been reported that heart attack and stroke are the two leading causes of death in the world.
"Often called the "silent killer" because there are often no obvious symptoms, hypertension accounts for more heart disease and stroke deaths than almost all other preventable causes. It's second only to smoking," reports the American Heart Association (AHA).
According to AHA's new guidelines, 46% of U.S. adults are identified as having high blood pressure. Under the old guidelines, the number was less at 32%.
More than half of all African-Americans now have high blood pressure under the new guidelines: 59% of African-American men (up from 42%) and 56% of African-American women (up from 46%). 47% of white men and 41% of white women now have high blood pressure.
A blood pressure of 120/80 is still considered normal.
These new guidelines were determined after years of research. The goal is to encourage us to be more proactive and take preventative measures for addressing diseases that are killing way too many Americans. The hope is that more people will take care of their blood pressure earlier and before they have more advanced stages of hypertension.
And even though more people will now likely be diagnosed with hypertension, the goal is not to simply treat high blood pressure with medication. Instead, the goal is to get people to adopt certain lifestyle changes earlier, control their blood pressure and reduce the likelihood of disabling diseases or death.
So how can you be proactive about preventing hypertension?
1. Avoid overtreatment and get an accurate reading of your blood pressure.
2. Get a pet. There is evidence that pet ownership may be associated with lower blood pressure levels.
3. Avoid smoking and get adequate physical activity.
4. Maintain a healthy weight.
5. Get enough healthy sleep.
6. Limit alcohol consumption (no more than two drinks a day for men, and no more than one drink a day for women).
7. Eat foods rich in the following nutrients:
You also need to be mindful of over-the-counter (OTC) drugs, like cold medicines, and how they may affect your blood pressure. For example, some decongestants may raise blood pressure. For a more detailed guide, click here. Read labels carefully and, as always, consult your doctor about OTCs and prescription drugs.
For more articles on how to prevent or control hypertension, read here.
Enjoy your healthy life!
The pH professional health care team includes recognized experts from a variety of health care and related disciplines, including physicians, attorneys, nutritionists, nurses and certified fitness instructors. This team also includes the members of the pH Medical Advisory Board, which constantly monitors all pH programs, products and services. To learn more about the pH Medical Advisory Board, click here.