5 Reasons Why Persimmons Pair Perfectly With The Holidays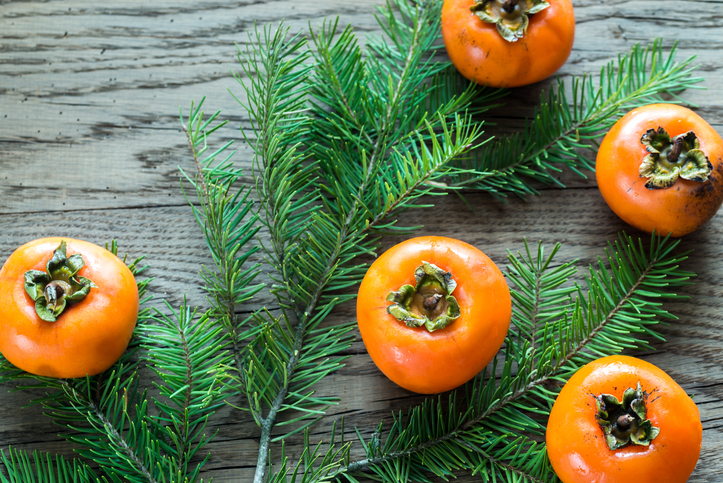 By Joy Stephenson-Laws, JD, Founder
Currently, there is a fruit in season that I bet does not make a regular appearance in your fruit bowl. It's also perfect for the upcoming holiday, because it is so colorful, bright and festive looking.
I'm talking about the persimmon.
What exactly is a persimmon?
Believe it or not, persimmons are actually berries despite being around the same size and color as a tangerine. To me, persimmons resembles orange-yellowish tomatoes.
There are many different species of persimmons (according to the National Institutes of Health (NIH), more than 400 species are planted globally!) , but the Asian species (grown from the Diospyros kaki tree) is native to China where this fruit is seen as a symbol of good luck. There is an American persimmon, and they are said to be sweeter than Asian varieties. American persimmons are also smaller in size.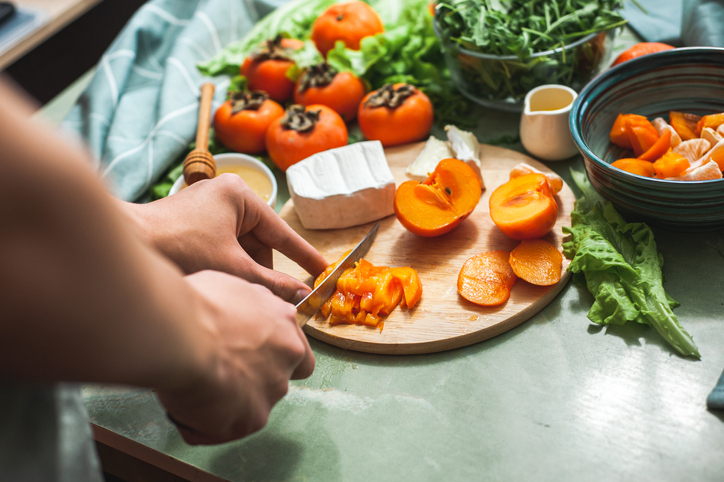 Astringent vs. Non-Astringent.
"Persimmon cultivars are classified as astringent or non-astringent. Astringent persimmons need to be completely ripe, thus really soft before being palatable, whereas non-astringent persimmons are firm when ripe and can either be eaten firm or ripened further and eaten soft. Cultivars of the American persimmon are all astringent, while cultivars of Asian persimmons can be astringent or non-astringent," according to the Agricultural Marketing Resource Center (AgMRC).
"Many delicious Asian persimmon cultivars can be grown in California; however, the most common astringent cultivar produced is Hachiya, and the most common non-astringent cultivar produced is Jiro. Another cultivar commonly grown and sold in California is the Fuyu, which is the most popular non-astringent cultivar grown in Japan."
If nice and ripe, persimmons are said to have a honey-like, cantaloupe taste. This fruit is often used to make syrups and jams. Before I get into some delicious holiday recipes that involve persimmons, let's check out some of the health benefits of this gorgeous fruit.
The leaves of the persimmon fruit can actually be boiled and made into a tea.
"Persimmon leaves may also have a therapeutic potential against diabetes due to modulation of insulin dependent glucose transport. The persimmon leaves influence the insulin-stimulated muscular glucose transport and thus can be used as insulin sensitizers for the treatment of diabetes," reports the NIH.
(As always, speak with your doctor or a competent healthcare professional regarding the treatment and management of diabetes).
Persimmons are rich in vitamin C.
Vitamin C, which you most likely associate with citrus foods such as oranges, may protect our bodies from deficiencies that may lead to cardiovascular illnesses and other diseases. It is one of the most important nutrients needed for our survival. It is an antioxidant, which means it protects our bodies from free radicals and other harmful molecules. It is a major producer of collagen, which is the main ingredient behind the repair of bone and skin tissue, cartilage, ligaments, tendons and teeth. Vitamin C helps moisturize and nourish the skin, which may increase skin elasticity and may even restore a youthful appearance.
According to the American Heart Association, just one persimmon fruit contains more than 20 percent of the recommended daily intake of vitamin C.
Persimmons are also rich in vitamin A.
Vitamin A is a nutrient that we all need. It's great for bone health and just as important as other nutrients like vitamin C, vitamin D, calcium, iron, magnesium and others. Along with bone growth, vitamin A plays a role in vision, immune system health, reproduction, cell division and cell differentiation. Vitamin A is also a powerful antioxidant that helps fight inflammation by reducing free radical damage. This vitamin may even reduce the risk of heart disease.
Just one persimmon has six grams of fiber (which can help aid in digestive health and more) and 55 percent of the recommended daily intake of vitamin A (American Heart Association).
Have a sweet tooth? Persimmons may be a healthy alternative to processed, sugary foods and beverages.
Not only are persimmons fat-free, but they are also a source of healthy carbohydrates and natural sugars. One persimmon fruit is only about 30 calories.
Persimmons are overall very nutrient-rich.
In addition to vitamins A and C, persimmons also contain essential minerals such as phosphorus, magnesium, manganese, copper and calcium.
Now for the fun part. How do we eat persimmomns this holiday?
The options for how to eat and incorporate persimmons into your holiday celebrations are practically endless. If nice and ripe, slice up thin like an apple and add to your cheese board. Persimmons are also great in smoothies, which I like to drink because they are so nutrient-dense if you pack them with fruits and veggies and may help prevent us from getting sick this holiday season. Some really fun persimmon recipes are below:
This is just a handful of great persimmon recipes. A simple Google search will lead you to so many to choose from. Also check out this helpful guide that tells you everything you need to know about how to prepare and eat persimmons.
Finally, we recommend that you speak with your doctor or a competent healthcare professional before incorporating new foods into your diet, especially if you have any existing health issues or are pregnant or breastfeeding.
Please let us know if you try persimmons this holiday season.
Enjoy your healthy life and happy holidays!
Disclaimer: This article is not intended to provide medical advice. Please consult with your doctor or another competent healthcare practitioner to get specific medical advice for your situation.
The pH professional health care team includes recognized experts from a variety of health care and related disciplines, including physicians, attorneys, nutritionists, nurses, and certified fitness instructors. This team also includes the members of the pH Medical Advisory Board, which constantly monitors all pH programs, products, and services. To learn more about the pH Medical Advisory Board, click here.
Newsletter
Related Products