Camu Camu. The Vitamin C Powerhouse You've Never Heard Of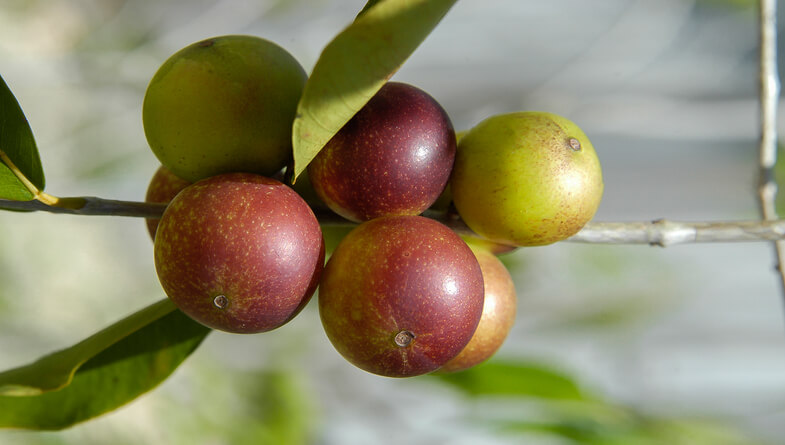 By: Joy Stephenson-Laws, J.D., Founder
Model and socialite Kendall Jenner reportedly has added another major title to her repertoire: "oral health mogul." She recently created an oral care line called Moon which contains, as one would probably imagine, your not so average dental hygiene products. And one of these products is a toothpaste that contains ingredients including tea tree oil, cranberry extract, green tea and camu camu.
Now, the latter of these ingredients, camu camu, is something I've been seeing around lately in some juices as well as a powder at certain health food stores.

Camu Camu is one of the highest botanical sources of vitamin C ."
So, I decided to do some investigating about what camu camu is exactly as well as some of the potential health benefits.
Camu camu (Myrciaria dubia) is a berry that comes from a shrub that grows in the Amazonian rainforests of Peru, Brazil, Venezuela and Colombia. I doubt that you will find camu camu berries in the produce section of your local grocery store, and some sources say that due to its sour taste, camu camu is usually not consumed as food. But this berry, which is considered by many to be a superfood, is (as mentioned) available in supplement and powder form. You can take the supplement orally or throw some of the powder in your morning smoothie.
Camu camu is rich in antioxidants and other nutrients and we hat should perhaps make us consider adding it into our proactive healthcare routines.
Camu Camu may help with gum health.
You may want to give Kendall Jenner's toothpaste a try. According to this scientific study, camu camu contains antibacterial properties that may help fight specific types of bacteria in the mouth that could cause tooth decay. Camu camu also contains anti-inflammatory properties that may help keep gums healthy by preventing gingivitis.

I cannot stress enough the importance of getting an adequate intake of vitamin C."
Camu Camu is a vitamin C powerhouse.
Camu Camu is one of the highest botanical sources of vitamin C. To give you an idea of how rich in vitamin C camu camu is, according to one source, a teaspoon of camu camu powder contains 1180 percent of your recommended daily intake of vitamin C!
Vitamin C protects the immune system from deficiencies that may lead to cardiovascular illnesses and other diseases. It is one of the most important nutrients needed for our survival. It is also an antioxidant, which means it protects our bodies from free radicals and other harmful molecules. It is a major producer of collagen, which is the main ingredient behind the repair of bone and skin tissue, cartilage, ligaments, tendons and teeth. Vitamin C also helps moisturize and nourish the skin, which may increase skin elasticity and may even restore a youthful appearance. It may also help with the management of diabetes.
Camu Camu may help fight obesity.
One 2018 study found that when overfed mice were given an extract of camu camu, the extract prevented the mice from becoming obese. According to this report discussing the study, researchers fed two groups of mice a high-sugar and high-fat diet for eight weeks. Half of the mice were given camu camu extract each day while the other half were not.
"At the end of the experiment, weight gain in camu camu-treated mice was 50% lower than that observed in control mice and was similar to the weight gain of mice consuming a low-sugar, low-fat diet. The researchers believe the anti-obesity effect of camu camu could be explained by an increase in resting metabolism in the mice that received the extract," according to the report.
Furthermore, "The researchers also found that camu camu improved glucose tolerance and insulin sensitivity and reduced the concentration of blood endotoxins and metabolic inflammation."
The researchers actually found that the camu camu extract changed the gut microbiota of the mice.
Camu Camu may help combat oxidative stress.
As mentioned, camu camu is very rich in vitamin C and other antioxidants. Antioxidants help fight oxidative stress which is believed to be the cause of many types of illness, including depression and cancer.
If you are a smoker, you are likely exposing your body to much more oxidative stress than someone who does not smoke. One study involving 20 male smokers with accelerated oxidative stress found that when they were given camu camu juice for just seven days it decreased their oxidative stress markers.
What's particularly noteworthy is that some of the participants were given vitamin C tablets instead of camu camu juice, however, they did not experience the same reduction in oxidative stress markers.
"Our results suggest that camu-camu juice may have powerful anti-oxidative and anti-inflammatory properties, compared to vitamin C tablets containing equivalent vitamin C content. These effects may be due to the existence of unknown antioxidant substances besides vitamin C or unknown substances modulating in vivo vitamin C kinetics in camu-camu."
Camu Camu is overall a nutrient powerhouse!
Camu camu is chock full of nutrients and amino acids we all need to stay mentally and physically healthy.
The National Institutes of Health (NIH) reports, "The fruits [of camu camu] are a substantive source of minerals, such as sodium, potassium, calcium, zinc, magnesium, manganese, and copper. They contain small amounts of pectin and starch. The major sugars are glucose and fructose. The fruits also contain a range of amino acids, organic acids (such as citric acid, isocitric acid, and malic acid), and fatty acids (predominantly stearic, linoleic, and oleic acid). There are 21 volatile compounds."
Dangers & Risks?
"There is some concern that camu camu can interfere with some chemotherapy medications—you should always let your doctor know about the supplements you are taking, but especially so if you are receiving chemo, for example," according to this source. The Memorial Sloan Kettering Cancer Center also backs this claim.
As always, seek the advice of a competent healthcare professional regarding what foods and supplements you are including in your diet, especially if you are pregnant, breastfeeding or have any existing health issues and/or are taking any medications and supplements.
Enjoy your healthy life!
The pH professional health care team includes recognized experts from a variety of health care and related disciplines, including physicians, attorneys, nutritionists, nurses and certified fitness instructors. This team also includes the members of the pH Medical Advisory Board, which constantly monitors all pH programs, products and services. To learn more about the pH Medical Advisory Board, click here