Dementia Takes AC/DC Co-founder Malcolm Young, But We Will Never Forget Him
6 years ago |
Senior Health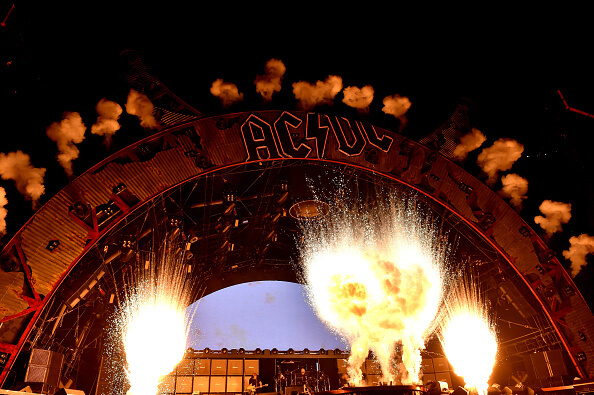 By Joy Stephenson-Laws, J.D. Founder
It was shocking and sad to hear that Malcolm Young, co-founder and guitarist of legendary rock band AC/DC, recently died from dementia at just 64-years-old. He was a husband, father and grandfather.
Reportedly, Young had been battling dementia for years. He retired from his band, founded in 1973 in Australia, in 2014 due to an "ailment," which was later revealed to be dementia. At this time, Young was also placed in a home so that he could receive around-the-clock care. During this period, a representative of the family said that he had complete loss of short-term memory.
Some reports say that Young had other serious health problems and even had to undergo a lung and heart operation. Although we do not know the specifics of his dementia, this is what appeared to have ultimately taken his life. Dementia not only affects the mind but also the physical body.
And it's an issue that affects many people.
The Centers for Disease Control and Prevention (CDC) reports that Alzheimer's disease, a type of dementia, affects an estimated 5.4 million Americans. The CDC says it is the sixth leading cause of death among all adults and the fifth leading cause for those aged 65 or older.
And what's particularly scary about Alzheimer's is in more than 90% of people with this disorder, symptoms do not appear until after age 60.
This is why it is important to be proactive about preventing dementia.
A new study involving brain training, found evidence that certain brain exercises may significantly improve cognitive function and decrease the risk of developing dementia.
Researchers examined more than 2,800 elderly (ages 65 and up) people over a 10-year period. In the beginning of the study, all participants were dementia-free.
Among the participants, three cognitive training programs were tested to see how they preserve cognitive and daily function. Participants were divided into four groups:
Group 1

: underwent

memory

training,

which focused on instruction and practice in strategy use for verbal episodic memory.

Group 2

: underwent

reasoning

training, which focused

on instruction and practice in strategy use related to problem-solving and serial patterns.

Group 3

: underwent

speed

training,

which focused on computerized, visual-perceptual exercises designed to increase the amount and complexity of information quickly processed. Goal was to speed thinking by having to tell the difference between a series of constantly changing objects on a computer. As the training progressed, objects appeared more quickly and looked more similar to one another.

Group 4

: underwent no training.
At the end of the study, 260 cases of dementia were found. The computerized speed-of-thought processing training program appeared to lower the risk of dementia by nearly 30% (29%), over the 10-year period, compared to the participants who did not undergo any brain training.
In addition to reducing the risk of dementia by 29% over a decade, each additional speed training session was associated with a 10% lower risk for dementia (compared to the untreated control group).
Furthermore, researchers believe that neither the memory or reasoning training lowered long-term risk of dementia.
"Speed training may lower dementia risk by increasing brain reserve capacity through compensatory changes in function (e.g., enhanced capacity or efficiency of the brain) or via direct effects promoting viability of healthy tissue or decreasing the amount or effect of pathologic proteins and processes," the study reports.
The study also suggests interventions that postpone dementia onset by even two years would cut projected dementia prevalence in 2047 by 22%.
More research needs to be done on how effective this brain training really is, but the National Institute of Health (NIH) also suggests that there may be cognitive benefits for older adults who play computer games.
Some suggestions on how you can be proactive about preventing dementia?
A healthy diet and ensuring your body has an adequate intake and appropriate balance of certain nutrients may help with decreasing the risk of developing dementia.
Eating a diet rich in plant-based foods that are rich in phytochemicals and antioxidants, like strawberries and other fruits and vegetables, may help prevent oxidative stress and free radical damage that may lead to dementia.
Remember, too much of a good thing can be just as bad as too little. Read here to learn more about reducing your risk for dementia by monitoring your magnesium serum levels.
Exercise may also lower your risk for developing dementia and may even improve cognitive scores in people who already have dementia or mild cognitive impairment. The NIH found evidence that aerobic exercise, in particular, may help in keeping your brain healthy. Talk to your doctor or a competent healthcare professional about what types of exercise are appropriate for you. Read here to learn more about exercises good for your age group.
Another study suggests that playing an instrument may also protect against dementia and cognitive impairment.
"Music processing is unique in that it necessitates a wide array of brain regions and functions simultaneously throughout both hemispheres," according to the study.
In the end, there are some things you cannot control. But you can take control of what you can by being proactive now.
Enjoy your healthy life!
The pH professional health care team includes recognized experts from a variety of health care and related disciplines, including physicians, attorneys, nutritionists, nurses and certified fitness instructors. This team also includes the members of the pH Medical Advisory Board, which constantly monitors all pH programs, products and services. To learn more about the pH Medical Advisory Board, click here.