Be Proactive About Diabetic Amputations
5 years ago |
Diabetes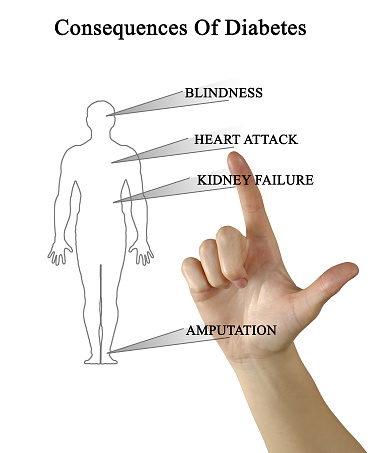 By Joy Stephenson-Laws, JD, Founder
The fight against diabetes is something very near and dear to my heart, because diabetes is a disease that has greatly impacted my life. I have managed to avoid the disease but, as I have previously shared, my dad passed from diabetes when I was only about three-years-old. And then thirty years later, my mom passed away from complications due to diabetes.
Recent data says that more than 100 million Americans have diabetes or prediabetes, and African-Americans are disproportionately affected by this disease. Turns out one of my favorite actresses, Viola Davis, was shocked to discover her prediabetic status. And like myself, she has had family members suffer from this disease. Davis has two sisters with diabetes and a great aunt who died from complications due to diabetes. Her great aunt's diabetes was so bad that she had to have both legs amputated while she was still alive.
"When people with diabetes have poorly controlled blood sugar, over time this can restrict blood flow to the lower legs and lead to nerve damage and impaired wound healing. With a lack of sensation in the feet and lower legs, people may not notice sores and infections that develop until these problems become so extensive that they can only be addressed by amputating the damaged portion of the foot or leg," according to a report from 2018. The report also stated that an increasing number of people in the United States are losing toes and feet due to diabetes by the time they get to middle age.
I've written several blogs about diabetes, mostly about prevention strategies and ways to control your condition if you are diabetic. Although many diabetic Americans are able to live overall healthy and happy lives if they manage their condition well, there is a large community of American people being devastated by diabetic amputations.
A recent report discusses how the majority of people being affected by diabetic amputations are low-income African-Americans and Latinos.
"It's a drastic procedure that stands as a powerful example of the consequences of being poor, uninsured and cut off from a routine system of quality health care," according to the report.
A doctor, referenced in one 2018 report from the American Journal of Managed Care (AJMC), said that each year about 200,000 non-traumatic amputations occur, and African-Americans are four times more likely to experience diabetes-related amputation than Whites.
To further illustrate just how big of an issue this is, the doctor also said that in the United States every 17 seconds someone is diagnosed with diabetes, and daily 230 Americans with diabetes will have an amputation.
Having to undergo an amputation due to diabetes is usually a result of the condition being very poorly managed and spiraling out of control. In addition, the cost of amputation is expensive. A single lower-limb amputation can cost more than $100,000!
"It's the most shameful metric we have on quality of care," said Director of the UCLA Center for Health Policy Research Ninez Ponce, in a recently published report.
"It is a health equity issue. We are a very rich state. We shouldn't be seeing these diabetic amputations."
The report goes on to provide even more information on this issue and states:
In California, doctors performed 82,000 diabetic amputations from 2011 to 2017. Blacks and Latinos were more than twice as likely as non-Hispanic Whites to undergo diabetic amputations (this was discovered through a Kaiser Health News analysis).
This all is not unique to California. Studies have shown that across the country diabetic amputations are more common in low-income, minority communities. According to the report, "Diabetic patients living in communities that rank in the nation's bottom quartile by income were nearly 39% more likely to undergo major amputations compared with people living in the highest-income communities, according to one 2015 study."
Furthermore, "A 2014 study by UCLA researchers found that people with diabetes in poorer neighborhoods in Los Angeles County were twice as likely to have a foot or leg amputated than those in wealthier areas. The difference was more than tenfold in some parts of the county."
All this is incredibly heartbreaking! Not only are diabetic amputations preventable, but many people who undergo diabetic amputations are no longer able to work if their job requires them to be physical and move around a lot. This further puts people who are already at a disadvantage in further economic turmoil. Not to mention, having amputated limbs makes it extremely difficult to exercise. And exercise, along with eating healthily, is one of the best things a person can do to manage their diabetes.
This issue is even further exacerbated by the fact that poorer communities are often food deserts, meaning that healthy, affordable foods are not readily accessible.
"An amputation often leads to a cascade of setbacks: more infections, more amputations, decreased mobility, social isolation. Research shows as many as three-quarters of people with diabetes who have had lower-limb amputations die within five years."
How can we be proactive?
We all have to find a way to provide adequate and relevant resources which will enable people to live healthy lives. As always, prevention is better than cure. There needs to be more education in severely affected communities about the importance of a healthy diet and exercise.
We also need to identify better management strategies for those who are at high risk of having to undergo diabetic amputation.
As we have previously discussed, the Southern Diet may be one leading cause of the diabetes crisis in the African-American community.
"Along with basic measures to control diabetes, regular foot exams are key. The Centers for Disease Control and Prevention estimates somewhere between 11% and 28% of people with diabetes get the recommended podiatric care, a yearly foot exam to check for loss of sensation and blood flow," according to the recent report.
I cannot stress enough how life-saving, and limb-saving I suppose I should say, a foot examination could be for someone suffering from diabetes.
Another key preventative strategy is making sure diabetics have an adequate intake of Vitamin C. Vitamin C is necessary for wound healing. People with diabetes are usually told to limit their intake of fruits, due to the potential effect on blood glucose levels. However, a lower intake of fruits may lead to vitamin C deficiency. And even if you eat lots of vegetables, if you overcook them you destroy the vitamin C.
I wrote about this before. According to the National Institutes of Health (NIH), vitamin C is "crucial for the proper function of the enzyme protocollagen hydroxylase which produces collagen, the primary constituent of the granulation tissue that heals a wound." And wound healing requires more vitamin C than diet alone can easily provide.
So we have to make sure that diabetic patients, especially those at risk for amputations, get an adequate intake of vitamin C. A person in this state may need more of this nutrient than the average person and an informed doctor may recommend IV infusions of Vitamin C in these cases.
Nutrient testing is one way to determine if you are not getting enough vitamin C. If the test reveals you have a vitamin C deficiency, a competent healthcare professional can work with you on making the necessary dietary changes and may recommend quality supplements you can take.
For those who have diabetes, you have to be proactive by educating yourself on how you can better manage your condition. This is my goal in writing these blogs: to help you help yourself. Know your needs and demand what you need no matter what. If you have to, speak with several doctors and tell them your concerns about diabetic amputations.
Enough is enough. Let's work together to stop these amputations from plaguing all communities.
Enjoy your healthy life!
The pH professional health care team includes recognized experts from a variety of health care and related disciplines, including physicians, attorneys, nutritionists, nurses and certified fitness instructors. This team also includes the members of the pH Medical Advisory Board, which constantly monitors all pH programs, products and services. To learn more about the pH Medical Advisory Board, click here.
Newsletter
Related Products