Don't Go Nuts, but Listeria May Be Hiding in Your Cashews and Macadamia
7 years ago |
Proactive Health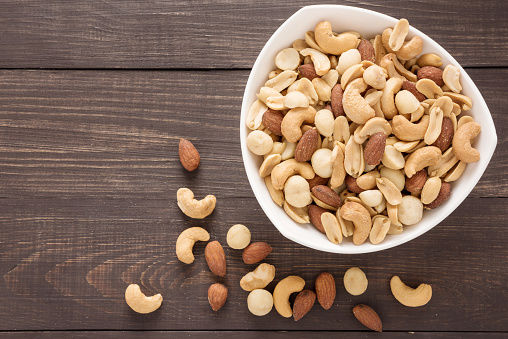 By Joy Stephenson-Laws, JD, Founder
When you hear "Listeria," you may think of food poisoning linked to dairy products, meat, seafood or raw vegetables. While these are among the most risky foods that can be contaminated with the foodborne disease-causing bacteria, another culprit just popped up with a possible case of contamination: nuts.
Dry roasted macadamia nuts from Simple Truth and Ava's Roasted & Salted Organic Cashews were recalled on May 24th and May 26th, respectively, from possible Listeria monocytogenes contamination, according to the U.S Food & Drug Administration (FDA) recall website. You can check if you have the same UPC codes as the recalled products here.
The bacteria, found in soil and water, can also spread through contaminated manufacturing equipment, which is what happened in this case, according to TechTimes.
No illnesses have been listed yet on the unrelated recalls, but it's important to know if you're a person at risk of developing an infection from the bacteria, known as listeriosis. The most at risk are:
Pregnant women, fetuses and newborns

People with weakened immune systems

People with cancer, diabetes, liver disease, kidney failure, HIV/AIDS and alcoholism

Adults 65 and older
In addition to the macadamia nuts and cashews, the FDA recalled queso fresco from De Mi Pais on May 30th and May 15th and recalled 3 other possible cases of the bacteria in burritos from Green Chile Food Company, white cheese from Quesos de la Costa and spinach from Peak Fresh and Harris Teeter Farmers Market.
How can we be proactive about Listeria?
Check the FDA's website regularly for recalls and safety alerts. If you purchased a possibly contaminated item, you can either return the item to the store for a refund, or call the company's customer service number, which is usually listed below the recall information on the FDA website. Throw the product away and wash anywhere it has touched, especially your hands.
If you have symptoms of listeriosis, call your doctor immediately. Symptoms can show up between 3 days to 2 months after consumption, according to FoodSafety.gov.
Unlike other germs, Listeria can grow in the cold temperature of a refrigerator. It's killed by cooking and pasteurization. If you're an at risk person, make sure hot dogs and deli meats are cooked until steaming hot.
Wash produce before eating it, and make sure soft cheese has the word "pasteurized" on the label of the package. Avoid soft cheeses that say they are made with unpasteurized milk. And always look out for recalls on pasteurized cheese and milk, because they can still be contaminated if they're pasteurized in a dirty facility.
See our previous blog on more ways to protect yourself against listeria here.
What are the symptoms of listeriosis?
Fever

Muscle aches

Nausea, diarrhea

Headache, stiff neck

Loss of balance

Confusion

Newborns may have uninterested in feeding, irritability, fever and vomiting
Symptoms may be similar to the flu. It's important to see your doctor, because the infection could lead to encephalitis and meningitis, inflammation of the brain and spinal cord.
Pregnant Hispanic women are 24 times more likely to get the infection, and pregnant non-Hispanic women are 10 times more likely to get a Listeria infection, which can cause miscarriages, stillbirths and premature labor, according to the Centers for Disease Control and Prevention (CDC).
Outbreaks from Listeria were seen in the 1990s from hot dogs and deli meats until there were changes that made processed meats safer, according to the CDC. A Food Safety Modernization Act was passed in 2011 to help after an outbreak of the bacteria appeared in cantaloupe.
Be proactive and learn to recognize the signs of listeria when consuming raw nuts, vegetables, milk, soft cheese, smoked seafood and cold hot dogs and deli meats.
Enjoy your healthy life!
The pH professional health care team includes recognized experts from a variety of health care and related disciplines, including physicians, health care attorneys, nutritionists, nurses and certified fitness instructors. To learn more about the pH Health Care Team, click here.