From Fighting Cancer to Keeping You Regular, Here's Why Mango is "The King of Fruits"
7 years ago |
Nutrition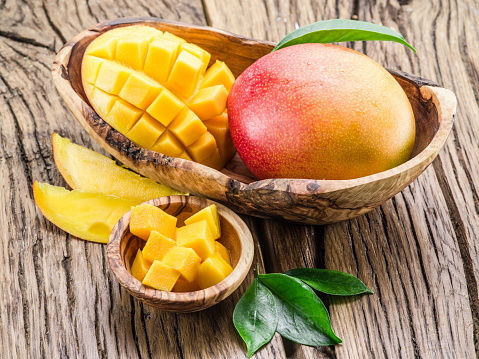 By Joy Stephenson-Laws, JD, Founder
Mangoes (along with bananas) are one of the most widely consumed fruits worldwide. A common nickname for this stone fruit, native to South Asia, is "The King of Fruits." In India, a basket of mangoes is considered a gesture of friendship.
Mangoes are available all year, and if you struggle with keeping fresh produce in your home, store frozen mango in your freezer for delicious smoothies at any time.
Frozen or raw, here are a few reasons why you should consider eating mangoes.
Mangoes may help prevent cancer.
A study, published in 2014, conducted by researchers at Texas A&M University provided evidence mangoes may help prevent breast cancer. Mangoes are rich in polyphenols, micronutrients found in some plants. These micronutrients have antioxidant and anti-inflammatory properties, which both help prevent damage from oxidative stress. Mango is also very rich in vitamin A, another antioxidant.
The researchers extracted polyphenols from mangoes and tested them in vitro on non-cancer and cancer breast cells. The polyphenols decreased breast cancer cell proliferation by 90 percent! In the noncancerous cells, the proliferation was only decreased by 20 percent. According to the study, this means the "cell-killing" effects of mangoes are specific to cancer cells.
Mangoes may help lower your blood pressure.
The National Institutes of Health (NIH), recommends following the "Dietary Approaches to Stop Hypertension (DASH) eating plan" if you have high blood pressure. The DASH diet involves eating less sodium and also incorporating specific foods into your daily diet. One of these foods is mango. Mangoes make the cut for the DASH diet food list, because they are rich in the minerals potassium (277 mg in one cup) and magnesium (16 mg in one cup). Increasing your potassium intake while reducing your sodium intake in your diet may improve hypertension. An increased potassium intake may offset the adverse health effects of sodium. Magnesium is a calming mineral widely regarded for its muscle-relaxing properties, which may help people with high blood pressure.
Mangoes may help quench your thirst and keep you hydrated.
As we are in the thick of summer, it is important to stay hydrated. But let's face it, many of us do not drink as much water as we need to be drinking. Water is great, but it can get boring to constantly drink something tasteless. If you struggle with attaining your daily water intake requirement, have some mangoes, which are about 83 percent water. If your kids play sports, mangoes are a great snack to throw in their gym bags. Not only will the water in mangoes help keep them hydrated, but the electrolytes that are also in mangoes will help keep their energy levels up and repair their muscles.
Mangoes may keep you regular.
Constipation is definitely not a sexy topic, but we all have experienced it and know how uncomfortable it can be. Now that it is summer, many of us are traveling and eating junk foods that may disrupt our digestive systems and cause constipation. Mangoes are rich in fiber, which may not only help prevent constipation but also soothe the uncomfortable symptoms of irritable bowel syndrome (IBS). The fiber in mangoes along with the water content provide a two-headed spear in helping fight constipation. Pack some mango in your carry-on bag for your next flight.
Mangoes may satisfy your sweet tooth without the guilt.
Mangoes practically taste like candy, but a cup of them will only cost you 100 calories. Plus, the fiber in mangoes may help you feel more full and satisfied, which can help fight hunger pangs and cravings. As always, be mindful of your sugar intake. Mangoes do have about 22 g of sugar per cup, but this is a natural sugar much better for you than the sugar in a lot of processed foods readily available to us. If you are diabetic or have a health condition that requires you to closely monitor your sugar intake, talk to your doctor about the benefits of eating mango and how you can incorporate it into your diet. Remember, even too much of a good thing can be bad.
Honestly, this is only the tip of the iceberg regarding the amazing nutritional value in just one cup of mangoes.
One cup of mangoes also contains:
Folate, 71 µg

.

Folate

(also known as vitamin B9) is one of the

eight B vitamins

.

B vitamins

help our bodies properly use the food we eat as fuel. They are involved in building DNA that the body uses for cell growth. For more information on folate, click

here

.

Vitamin C, 60.1 mg

.

Vitamin C is great at improving your immune system. Vitamin C also encourages new collagen synthesis, which means it helps build new cells. If you are

recovering from surgery

or have a wound that is in the process of healing, eating some vitamin C packed mango may help speed up the process.

Phosphorus, 23 mg.

This mineral works with calcium to build strong bones and teeth. It is also needed to

help balance

and use other vitamins and minerals, including vitamin D, iodine, magnesium and zinc.

Calcium, 18 mg

. You probably know calcium is critical for building and maintaining strong bones and teeth. What you may not know is this mineral may decrease your risk for colorectal cancer. Recent studies confirm that high calcium intake is associated with a lower risk of colorectal cancer among both men and women.
Mangoes are delicious eaten raw in their purest form, but if you like to get adventurous in the kitchen check out these healthy recipes that incorporate mango.
As always, we encourage you to be aware of the nutrients that healthy foods provide. These nutrients may protect and improve your immune system and keep you healthy. Healthy food is medicine and one of the best ways you can be proactive about your overall health.
Enjoy your healthy life!
The pH professional health care team includes recognized experts from a variety of health care and related disciplines, including physicians, attorneys, nutritionists, nurses and certified fitness instructors. This team also includes the members of the pH Medical Advisory Board, which constantly monitors all pH programs, products and services. To learn more about the pH Medical Advisory Board, click here.