Healthy Burger Options for Labor Day
5 years ago |
Nutrition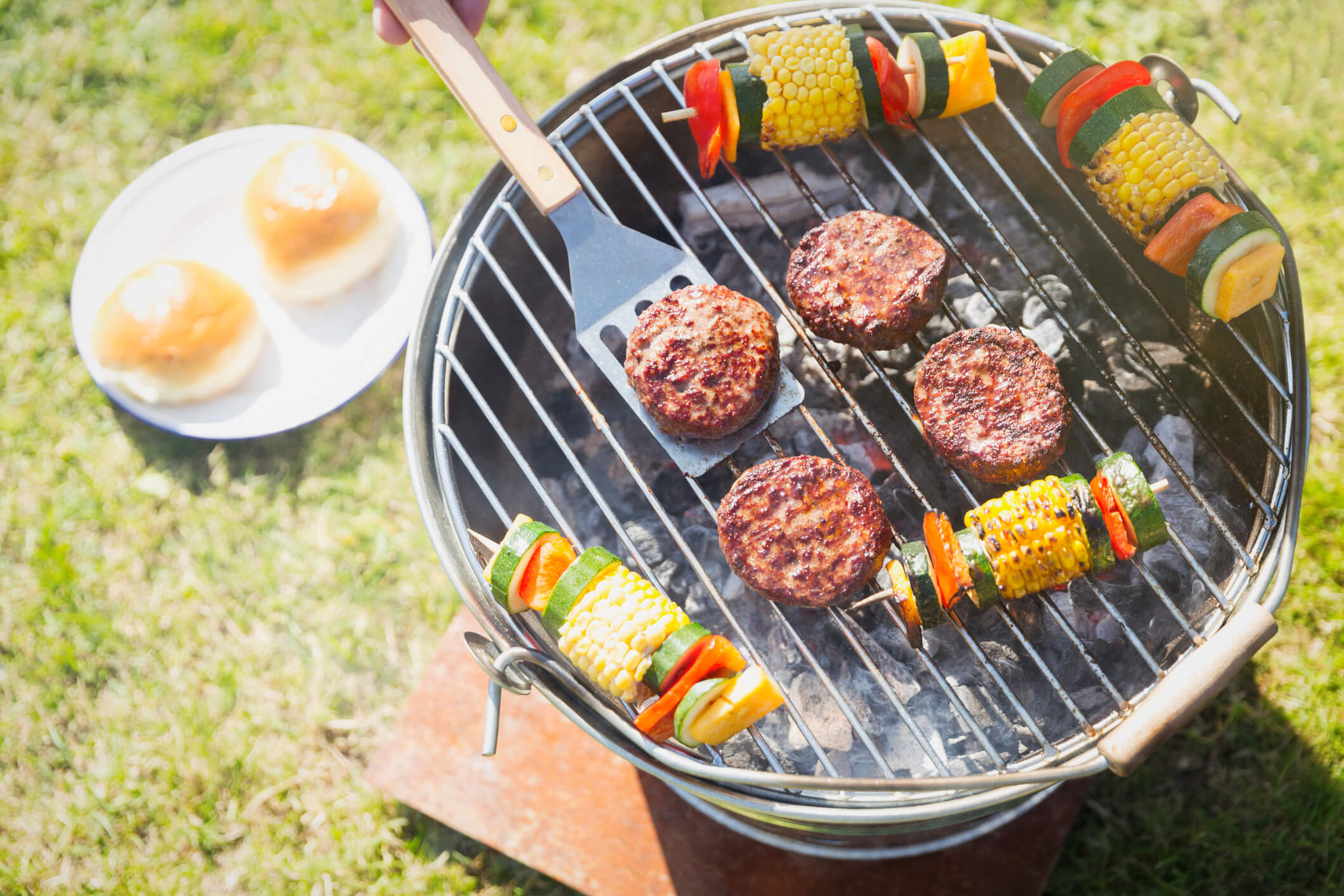 By Joy Stephenson-Laws, JD, Founder
It might be a good idea to labor less in the kitchen and reach for some healthy, plant-based burger options this labor day.
Yes, I know plant-based meat options may sound unappealing to some. But before writing off alternative meat options or veggie burgers, take a closer look and see why going meatless may be a tasty fixation and not just a passing trend.
Plant-based products are taking over grocery store shelves. In fact, it is becoming increasingly difficult to keep up with all the options and ingredients. From black bean burgers, veggie burgers and mushroom based patties, the variety of plant based 'meat' products can be dizzying.
How can you determine which brands and/or ingredients best suit you, your palate and diet?
Let's take a closer look at how these plant-based patties stack up, and how you can even make your own meatless burgers at home in time for Labor Day.

The Impossible Burger. The Impossible Burger was one of the first 'meatless' or 'vegan' burger options that actually looked, tasted and even 'bled' like the real thing. Through savvy social media marketing tactics, the Impossible Burger quickly grew in popularity where it has remained at the top of the heap when it comes to alternative burger options. Created by Impossible Foods, the Impossible Burger is a meat-free burger consisting of wheat protein, coconut oil, potato protein and heme. "What makes the Impossible Burger unlike all others is an ingredient called heme," according to the Impossible Foods site. Heme is an iron-rich molecule abundantly found in real meat. In the case of the Impossible Burger, the heme comes from soy leghemoglobin, a protein extracted from the roots of soybean plants. Pile on some healthy toppings, like avocado, and a whole wheat bun, and you'd find it difficult to tell the difference between this burger and a traditional all-beef pattie.
Beyond Burger. Beyond Burger is made from simple plant-based ingredients. Peas provide the protein. Trace amounts of beet lend the beefy red color. Coconut oil and potato starch lend juiciness and a favorable texture. The result is a downright delicious burger, made from plants. The Beyond Meat Burger has significantly less saturated fat and slightly less carbs than the Impossible Burger, which has given it an edge for those trying to watch their waistlines.
Whole Foods 365 Meatless Burgers. These certified vegan burger patties contain soy and vegetable protein. They. are a great grab-and-go when you're trying to stay lean and still have 'junk food'. They don't have any saturated fat and are a great source of fiber and protein. Enjoy a satisfying, meaty texture with a blend of Southwestern seasonings that give this pattie a spicy kick!
The thought process behind all the 'meatless' burger craze is that ex-meat eaters still wanted something that tasted and felt like the foods they grew up with. However healthy, traditional veggie burgers have always lacked the same texture and bite. And reportedly, many 'meatless burgers' do contain some questionable ingredients that act as binders to hold the ingredients together. They aren't true 'veggie' burgers in the sense they are made strictly from whole vegetables and grains.
So making veggie burgers at home can be a great option if you want to avoid the alternative meat products. Ingredients to consider are black beans, quinoa, brown rice, carrots, bell peppers, sweet potatoes and a host of spices when constructing your veggie burgers. It all depends on your taste buds. There are thousands of recipes and variations out there. There is a useful formula for making hearty vegetarian burgers, which you can tweak depending on what you like.
Here is an excellent black bean burger recipe that is easy to throw together and will leave your Labor Day guests impressed and satisfied.
You'll need:
1 (16 ounce) can black beans, drained and rinsed

1/2 green bell pepper, cut into 2 inch pieces




1/2 yellow onion, cut into wedges




3 cloves garlic, peeled

1 egg

1 tablespoon chili powder

1 tablespoon cumin

1 teaspoon Thai chili sauce or hot sauce

1/2 cup bread crumbs
Instructions:
1. If grilling, preheat an outdoor grill for high heat, and lightly oil a sheet of aluminum foil.
2. If baking, preheat oven to 375 degrees F (190 degrees C), and lightly oil a baking sheet.
3. In a medium bowl, mash black beans with a fork until thick and pasty.
4. In a food processor, finely chop bell pepper, onion, and garlic. Then stir into mashed beans.
5. In a small bowl, stir together egg, chili powder, cumin, and chili sauce.
6. Stir the egg mixture into the mashed beans.
7. Mix in bread crumbs until the mixture is sticky and holds together.
8. Divide mixture into four patties.
9. If grilling, place patties on foil, and grill about 8 minutes on each side.
10. If baking, place patties on baking sheet, and bake about 10 minutes on each side.
11. Wrap in lettuce or go with whole wheat burger buns.
12. Dress with favorite condiments and enjoy!
The Future of Meatless Products
The meatless race is well underway, with companies volleying to gain control of the market. Richard Branson and Bill Gates are moving forward with their vision of a meatless and more humane future. Memphis Meats aims to offer 'cultured meats', which is lab grown meat with the same composition as traditional meat, just without the slaughter. These products aren't expected to hit your grocer's shelves for at least another year though.
For now, veggie burgers and meatless burgers reign supreme. Buying a package of meatless burgers will make guests who don't eat meat feel more welcomed. Hammering out a few veggie patties in your kitchen may also be beneficial for your heart, weight and overall health as well. So get a little creative and adventurous this holiday season. If you are throwing an outdoor bash, leave room for options. And most importantly, always remember to eat to live and enjoy your food.
Enjoy your healthy life!
The pH professional health care team includes recognized experts from a variety of health care and related disciplines, including physicians, attorneys, nutritionists, nurses and certified fitness instructors. This team also includes the members of the pH Medical Advisory Board, which constantly monitors all pH programs, products and services. To learn more about the pH Medical Advisory Board, click here.