Let's Whoop Whooping Cough!
5 years ago |
Proactive Health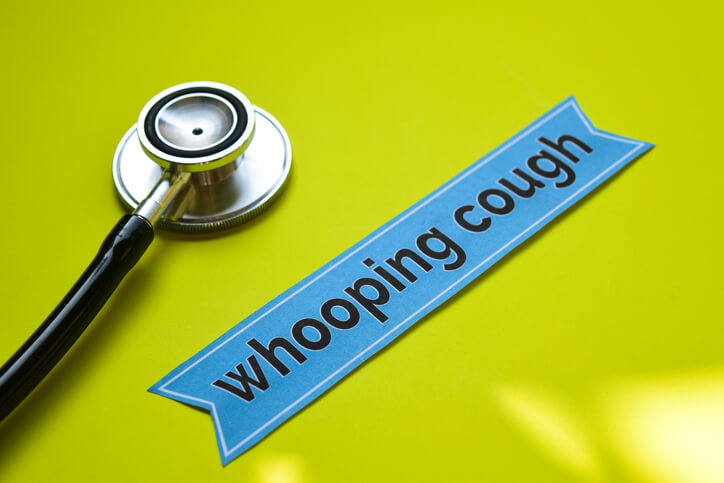 By Joy Stephenson-Laws, JD, Founder
"It's the kind of disease that once it gets rolling you really have to jump on it," said Missoula City County Health Department Director Ellen Leahy, in this report discussing a whooping cough outbreak in western Montana.
In Missoula, potentially hundreds of residents have recently been exposed to whooping cough, a highly contagious respiratory disease.
Characterized by violent fits of coughing that may cause a person to breathe very deep resulting in a whooping sound, this is how the respiratory illness got its unique name.
"We haven't had an outbreak of this size with this range of ages in different schools since about 2012," Leahy said.
There have been six confirmed cases of whooping cough in Missoula, the patients ranging from preschool age to teenagers. And one patient had to be hospitalized.
So let's get more into the details of what whooping cough really is.
Also called pertussis, whooping cough is a respiratory disease caused by a bacterium called Bordetella pertussis. Whooping cough can be especially dangerous in babies. Complications from whooping cough more commonly seen in babies include pneumonia, convulsions, slowed or stopped breathing and even encephalopathy (disease of the brain). Recently, a baby in Orange County unfortunately died of whooping cough.
What's tricky about whooping cough is earlier symptoms are usually just cold-like symptoms (so you may not know you even have it). Later-stage symptoms may cause vomiting and exhaustion due to the extreme coughing fits. In bad cases, the coughing fits may last up to 10 weeks. In China, whooping cough is actually called the "100 day cough."
"Pertussis or whooping cough has been given many names over the centuries. It was first recognized in the Middle Ages and since then various epidemics have been described. Jules Bordet and Octave Gengou isolated Bordetella pertussis, a causative agent for whooping cough, in Paris more than 100 years ago, which created an excellent opportunity to invent a vaccine," reports the National Institutes of Health (NIH).
Medical practitioners started developing vaccines in the 1930s, and the vaccine started becoming widely used in the 1940s.
So one of the most effective ways to prevent whooping cough is by being vaccinated, however, being vaccinated does not provide 100 percent protection from a disease.
Furthermore, changes made to whooping cough vaccines may be one of the reasons why the United States has seen more whooping cough outbreaks over the past couple of years or so. According to this 2015 report, "The recent outbreaks of whooping cough in the United States may be due, in part, to a change made two decades ago to vaccine ingredients, a new study finds."
"When pertussis circulates in the community, there is a chance that a fully vaccinated person, of any age, can catch this disease. If you have gotten the pertussis vaccine but still get sick, the infection is usually not as bad," according to the news report discussing the outbreak in Missoula.
So we cannot solely rely on vaccinations (although they are important). We have to be proactive.
Ways you can be proactive (including ways to recover if you catch whooping cough):
If you contract whooping cough, you will likely be given antibiotics. Antibiotics may shorten the amount of time someone is contagious. Be sure to complete your antibiotics, do not share them and know what your body needs nutritionally when taking antibiotics. You can read all about this

here

.

Whooping cough is spread much like

the flu

, from tiny droplets when people sneeze. So be a regular handwasher, wipe down your keyboards and protect your immune system by getting the right amounts of certain vitamins and minerals. Click

here

for immune system-boosting nutrients.

Don't ignore your cough or your child's. Remember, whooping cough often mimics the symptoms of the common cold.

We recently discussed

why it is important to not ignore your cough. Whooping cough could be another reason why you don't want to ignore your cough.

Get regular

nutrient testing

. To help your body ward off illness, it is imperative to be nutritionally balanced. If a nutrient test reveals you have too little or not enough of a certain vitamin or mineral, a competent healthcare professional can work with you on making the necessary dietary changes and recommend quality supplements if you need them.

Get vaccinated. This is really the most effective way to prevent whooping cough even though we need to look at preventing it from a holistic approach. At your next physical, ask your doctor if you need a whooping cough booster shot. Vaccinations do not necessarily last a lifetime.
Don't let whooping cough take the air out of you!
Enjoy your healthy life!
The pH professional health care team includes recognized experts from a variety of health care and related disciplines, including physicians, attorneys, nutritionists, nurses and certified fitness instructors. This team also includes the members of the pH Medical Advisory Board, which constantly monitors all pH programs, products and services. To learn more about the pH Medical Advisory Board, click here.