By Joy Stephenson-Laws, J.D., Founder
Mozzarella for Halloween? Why Not!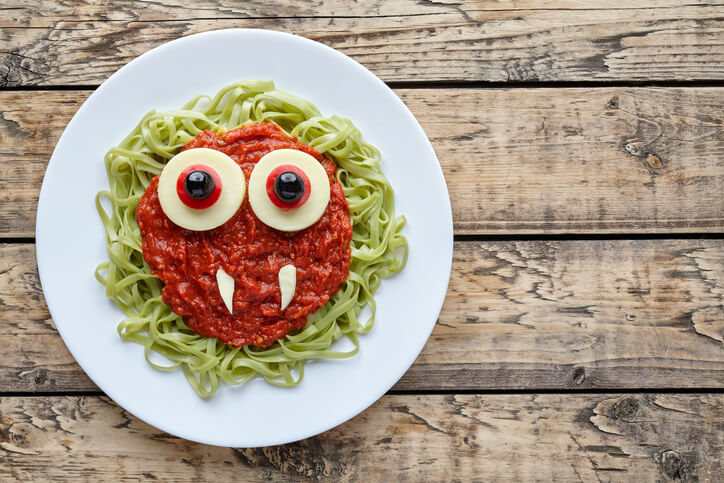 As you know, Halloween is just around the corner. I recently blogged about how to make Halloween healthy but fun for your kids and how to moderate their sugar intake without being the sugar police!
In this recent blog I included a list of healthy treats such as dried fruits, popcorn, yogurt-covered raisins and pretzels. And just the other day I came across this fun Halloween recipe for marinated mozzarella eyeballs. Then, after doing some research on this curd cheese that originated in Italy I realized that mozzarella needs to be added to my list of healthy Halloween goodies.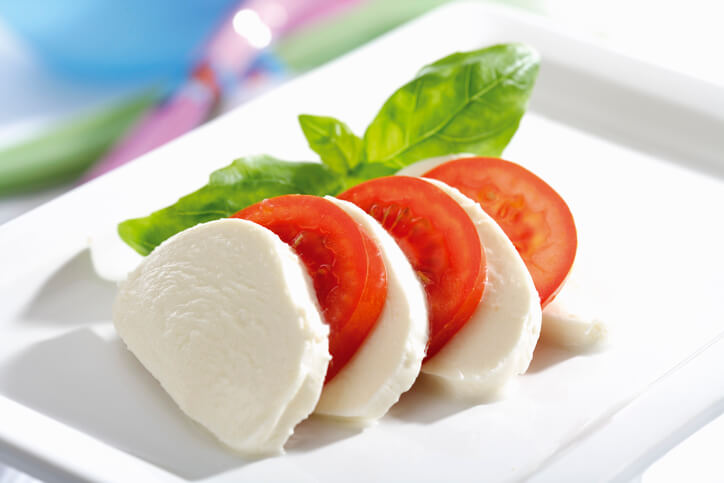 Go for fresh mozzarella.
There is the fresh mozzarella available in the store that usually comes as a big ball in a container with water. And then there is the processed, variant mozzarella that normally comes shredded in a bag.
"Traditional Mozzarella cheese is made from milk of water buffalos herded in very few countries such as Italy and Bulgaria. As a result, most of the Mozzarella cheeses available now are made from cow's milk," according to one source.
Go for the fresh stuff for the health benefits. And honestly, why would you deny yourself the creamy, milky taste of fresh mozzarella?
Why you may want to serve up some marinated mozzarella eyeballs at this year's Halloween party!
To state the obvious, mozzarella has a lot less sugar than Halloween candy!
In fact, it barely has any. So serving some mozzarella at the kids' Halloween bash is a great way to include a delicious treat that's not another sugar bomb.
Fresh mozzarella also pairs nicely with other healthy foods such as tomato, basil and bell pepper. You can also try making this grilled vegetable pizza with fresh sliced mozzarella.
Mozzarella is lower in calories and fat than many other cheeses.
Fresh mozzarella may taste decadent, but it's a relatively low calorie food (in moderation).
"One ounce of fresh mozzarella, which is about the size of four stacked dice, has 70 calories. For comparison, the same serving of part-skim mozzarella has 85 calories and cheddar 115 calories. When it comes to trimming calories for weight control, you're better off with fresh mozzarella," according to one source.
"Like the calories, fresh mozzarella is lower in fat than other types of cheese with 5 grams per ounce versus 6 grams in part-skim mozzarella and 10 grams in cheddar...Fresh mozzarella is naturally lower in fat and calories than the other types of cheese, which means you get the calorie savings benefit without sacrificing flavor."
It's important to make foods such as these accessible to our children during Halloween and around all the other sugar and fat-filled holidays that are coming up.
(The incidence of childhood obesity in the United States has more than tripled since the 1970s. Currently, one in five school-aged children (ages 6-19) are obese. In addition to this, approximately one-third of American youth are overweight. And if our children are overweight or obese, the more likely they are to remain so as adults, which may increase their risk for a variety of diseases, including heart disease, cancer, depression and diabetes).
Mozzarella is a great source of protein.
Just an ounce of fresh mozzarella contains about six grams of protein. Proteins are one of the essential nutrient groups (the other nutrient groups are water, carbohydrates, fats, vitamins and minerals).
You're going to want to give your kids some protein during all of the Halloween festivities. Protein may help combat those sugar crashes and hunger pangs that can occur when you are not eating very healthily. Protein also helps with muscle repair and recovery. Not a bad thing when you'll be doing all of that running around with trick-or-treating!
Mozzarella is rich in calcium.
There are around 242 milligrams of calcium in about two ounces of fresh mozzarella. As you probably know, calcium is an important mineral for children to grow strong and healthy bones (this includes teeth which are now subject to Halloween dental issues).
(In addition to this, consuming adequate calcium may also decrease your risk for colorectal cancer. Recent studies confirm high calcium intake is associated with a lower risk of colorectal cancer among both men and women. Maintaining the correct levels of calcium in your system may also reduce the risk of breast cancer).
Mozzarella may be good for the gut.
A registered dietician in one report states that fresh mozzarella contains contains Lactobacillus casei and Lactobacillus fermentum, which are two probiotic strains that are beneficial gut health.
The health of our gut microbiome is important for many reasons. One is that a healthy gut may help our immune systems work as best and efficiently as possible. Giving your kids probiotics, which they can get from fresh mozzarella, may help decrease the chance that they will get sick this holiday season.
Mozzarella may aid in dental health.
Halloween can wreak havoc on your child's teeth if you are not proactive. Fresh mozzarella may increase saliva production in the mouth which can help wash away plaque and bacteria from the gums.
"Surprisingly, eating cheeses like mozzarella can even prevent bad breath since dairy products help neutralize acidity," according to one source.
Precautions with mozzarella?
If your child has a dairy allergy, most mozzarellas are not best for him or her. However, buffalo mozzarella is not made from cow's milk. So speak with your pediatrician or a competent healthcare professional if you have concerns about mozzarella and allergies.
If you are pregnant, breastfeeding or have any existing health issues, it is always recommended to seek the advice of a competent healthcare professional regarding what foods you are including in your diet.
Enjoy your healthy life and Happy Halloween!
The pH professional health care team includes recognized experts from a variety of health care and related disciplines, including physicians, attorneys, nutritionists, nurses and certified fitness instructors. This team also includes the members of the pH Medical Advisory Board, which constantly monitors all pH programs, products and services. To learn more about the pH Medical Advisory Board, click here.