Transform Your Health with Radicchio
5 years ago |
Nutrition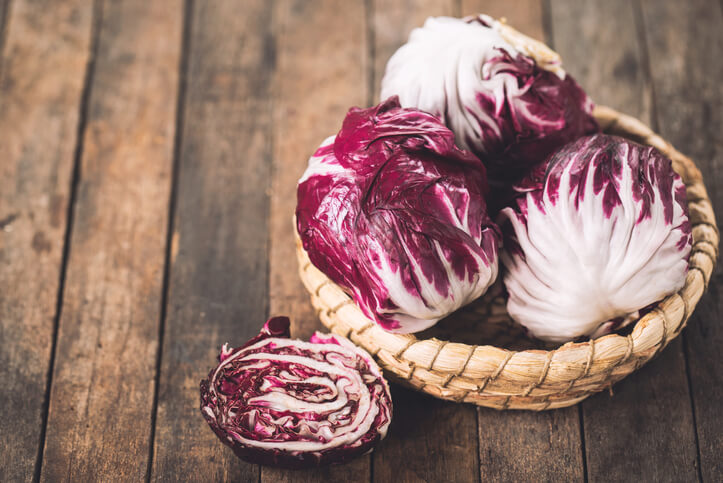 By Joy Stephenson-Laws, JD, Founder
Not very many of us know a lot about radicchio. It is one of those vegetables that seems to linger on the sidelines. You may have even accidently grabbed a head of it at the grocery store thinking it was red cabbage. But cabbage it is not. Radicchio is actually a type of leaf-chicory, as is Belgian endive.
Often used in salads or as a plating accessory in high-end restaurants, radicchio is so grossly underutilized it has become insulting.
Fortunately, it looks as if radicchio's days of being misunderstood are coming to an end. Radicchio may be getting the pop culture praise it has longed for all along, thanks to an unlikely source, Instagram.
Just like rainbow colored waffles and the charcoal activated ice creams of years past, there is now a healthier food item to take the helm and trend on plates across the United States. Introducing pink radicchio to the hash tag bash. Fancier than traditional radicchio, pink radicchio is more mild, less bitter and almost sweet in flavor with a soft butter lettuce-like bite.
Lane Selman, an agricultural researcher at Oregon State University, first noticed pink radicchio several years ago. Now, she says, she's spotting it across the United States. "I think it has so much to do with the appearance," Selman says. "Chefs always want something novel, so when something like this radicchio hits the shelf, it takes off. Everyone wants to take a picture of it, and it's pretty approachable too."
Bon Appetit Magazine interviewed Executive Chef Zach Zeidman. He said, "This (pink) radicchio is not a new thing, but the color is having such a moment, so it's interesting to see that trend coming into play." It is suggested that you skip the silverware and just dig in. "If you're not eating those salads with your hands, you're not doing it right," says Zeidman.
Fanfare and fads aside, whether you were introduced to radicchio by way of Instagram or you simply had a serendipitous run in with it at your farmers market, radicchio (pink or regular purple) is a nutritious vegetable that should be embraced and explored.


The Rad History of Radicchio
Although it may be a virtual newcomer to local markets, radicchio has been around a millennia. Roman author and naturalist, Pliny the Elder, claimed radicchio was useful as a blood purifier and an aid for insomniacs. It was found that radicchio contains lactucopicrin (intybin), a known sedative and may even improve cognitive functioning.
Radicchio was first cultivated in Italy's Veneto and Trentino regions during the 15th century. But we can credit the ruby hue of today's radicchio to Belgian agronomist Francesco Van den Borre. In 1860, Francesco used a farming and gardening technique called imbianchimento (whitening), pre-forcing, or blanching to create the dark red leaves we see today.
This rosy bitter vegetable is still mostly grown and cultivated in the Veneto region of Italy, near Venice, although it is starting to crop up in Arizona, Pennsylvania, California and other parts of the United States as demand increases.
"Supply is matched with demand right now. Even though we had a wet, cool spring, it didn't affect radicchio plantings here in California," says Marc Marchini of J Marchini Farms in Le Grand, Ca. "So we're not over, but not under, just perfect and it looks to stay that way."
Types of Radicchio
Each type of radicchio is named after its respective region in Italy and varies depending on altitude and manner in which it was farmed.
Chioggia

. This is what you usually see at the grocery store. This version of radicchio has the standard cabbage-like head of leaves and a slightly astringent flavor. Chioggia is commercially available year round.

Treviso

. This tall and slender runway model version of radicchio resembles a large red endive with a similar flavor. The long, sturdy leaves are great for scooping up dips like hummus or tzatziki sauce.

Treviso Tardivo

. Treviso is excellent for cooking because it has evolved over the decades to offer a firmer texture and a more intense flavor.

Castelfranco.

If you are feeling a little shy and not sure whether to try your hand at the bitey flavors of radicchio, this may be the best place to start. Castelfranco dons a nice rich white color, with red freckles and a gentle flavor in comparison to other types of radicchio.
The Delightfully Biter Benefits of Radicchio
Radicchio has a ton of flavonoids and anthocyanins, powerful anti-inflammatory and antioxidant agents, which may help prevent cancer and neurological diseases. The list of nutrients is mind blowing. Radicchio is loaded with dietary fiber, vitamin B6, iron, magnesium, phosphorus and zinc, and a healthy source of vitamin C, vitamin E, vitamin K, folate, potassium, copper and manganese.
Let's further explore some of the possible benefits:
It isn't surprising that radicchio has emerged as a superfood. The phytochemical composition and nutritional profile is impressive. When you factor in flavor and the adventure of exploring new radicchio dishes, how can you not fall in love? Here are a few recipe and meal ideas so you can start to incorporate this amazing vegetable into your diet.
There aren't many drawbacks to eating radicchio. As with any dietary changes, or when trying new foods, it is always wise to consult with a medical professional if you experience an allergic reaction or if you are taking medications that can negatively interact with certain foods.
Enjoy your healthy life!
The pH professional health care team includes recognized experts from a variety of health care and related disciplines, including physicians, attorneys, nutritionists, nurses and certified fitness instructors. This team also includes the members of the pH Medical Advisory Board, which constantly monitors all pH programs, products and services. To learn more about the pH Medical Advisory Board, click here.