Why You Should Try This Viral Green Goddess Dressing…ASAP!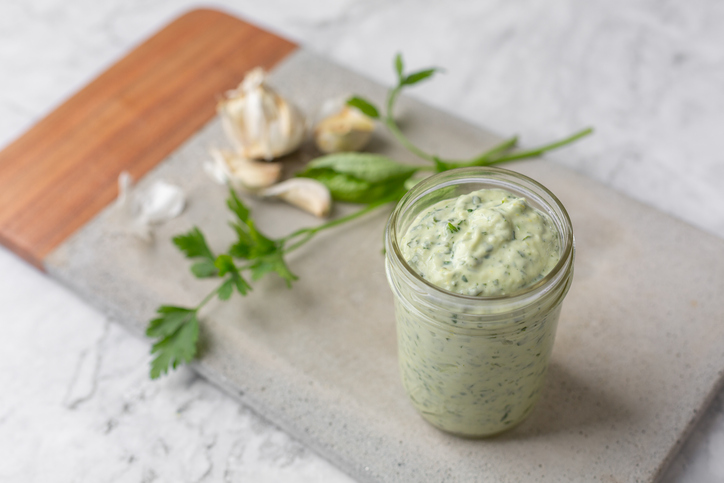 By Joy Stephenson-Laws, J.D., Founder
In my opinion, salads are one of the most convenient, versatile meals you can make. There are no limits to the toppings, vegetables and proteins you can include in a salad. They are usually super nutrient-dense and perfect for warmer summer weather (when things like pasta and stews may feel too heavy).
You may feel, however, that you are in a salad rut if you use the same dressing constantly. You may not be a fan of store bought dressings. They often have added sugars, preservatives and other ingredients that are nutrient-void or not good for us. This is why I try to use a simple homemade dressing of olive oil, fresh lemon juice, balsamic vinegar and maybe a touch of honey with some salt and pepper. I love this dressing, but sometimes I need a change.
In my search for some good summer dressings, I came across green goddess dressing and knew immediately that I had to make this.



A salad is not a meal. It is a style."
What is green goddess dressing?
Apparently, green goddess dressing was created in the 1920s in San Francisco at the Palace Hotel. Traditional green goddess dressing is actually not the healthiest (it contains sour cream and mayonnaise and sometimes even heavy cream). Fortunately, there are so many healthier recipes out there that do their own version of dishes that could use a health makeover. Baker and food influencer Melissa Ben-Ishay of Baked By Melissa shared a vegan green goddess dressing that actually went viral last year.
"Melissa recreated a healthier and vegan version, exchanging the cream with blended walnuts and cashew nuts. The nuts provide the recipe with creaminess," according to one report.
"​​Simply put, the salad is famous because of how simple, yet good it is. The Green Goddess Salad is high in essential nutrients, while it cuts down on ingredients that fitness enthusiasts avoid."
This dressing recipe calls for:
1 cup basil leaves
1 cup fresh spinach
2 cloves garlic
1 small shallot
2 lemons, juiced
1/4 cup olive oil
1/4 cup nuts of your choice (Melissa used raw, unsalted cashews and walnuts)
1/3 cup nutritional yeast
1 teaspoon salt
2 tablespoons rice vinegar
Some chives (optional)
This dressing is a beautiful green color, delicious and extremely nutrient-rich. Let's take a closer look at some of these star ingredients.
Basil. This herb contains antioxidant, antibacterial and even antiviral properties. Basil is also a good source of calcium, magnesium and potassium and may even lower blood pressure and blood sugar.
Spinach. Is a super green. Making a dressing with spinach is great for those who don't enjoy eating spinach by itself. Spinach has powerful antioxidant properties and may help fight cancer and even slow down aging of the brain.
Garlic. Not only does garlic add amazing flavor, but it also may help boost the immune system, and research has shown that people who frequently eat garlic have reduced rates of gastric, lung, colorectal and prostate cancer.
Shallot. A relative of the onion, shallots may improve heart health, help manage diabetes and more.
Lemon. This citrus fruit is packed with nutrients and may help increase iron absorption as well as help prevent kidney stones.
Olive oil. This oil may help reduce the risk of cardiovascular mortality (which is the leading cause of death among American men and women) and support cognitive health.
Nuts. Are a source of healthy fat and may help reduce the risk of heart attack and stroke. Walnuts may even help fight breast cancer.
Chives. Related to onions and garlic, chives are rich in antioxidants that may help fight cancer and improve heart health.
Go green. Get ready to glow.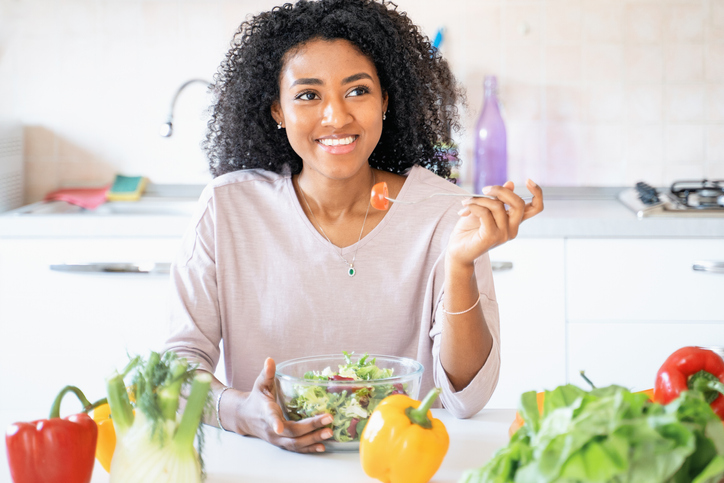 As you can see, this dressing is loaded with beneficial nutrients. We haven't even gotten to the actual salad yet! The woman who created this dressing drizzled it over a salad of green cabbage, baby cucumbers, chives and green onions (or scallions). This simple and refreshing salad is a sure way to get plenty of whole, plant-based foods that will not only promote health but also likely make your skin glow due to all of the antioxidants and water that is naturally present in a lot of plant foods. A salad that is going to make me glow? Sign me up!
The beauty of salad is that if you don't like a certain green or ingredient, you can switch it up. For example, instead of cabbage you could use arugula, kale, romaine, mixed greens or red leaf lettuce. You can also just use what you have on hand. Have some bell pepper you need to use up? Chop it up and add for some crunch, pop of color and even more nutrients. Your options are pretty much endless. If you are someone who likes to mix the sweet with the savory, add some pomegranate seeds. You can also pair your salad with a healthy, lean protein such as grilled salmon or chicken.

The only bar I frequent is the salad bar."
If you have a nut allergy, you can replace the nuts with Greek yogurt or coconut yogurt (if you are vegan or do not include dairy in your diet). As always, consult a competent healthcare professional about the foods you are including in your diet, especially if you have any existing health issues or are pregnant or breastfeeding.
Enjoy your healthy life!
The pH professional health care team includes recognized experts from a variety of health care and related disciplines, including physicians, attorneys, nutritionists, nurses, and certified fitness instructors. This team also includes the members of the pH Medical Advisory Board, which constantly monitors all pH programs, products, and services. To learn more about the pH Medical Advisory Board, click here.