Chemical Chickens? You May Want to Put Store-Bought Rotisserie Chickens on Naughty Processed Foods List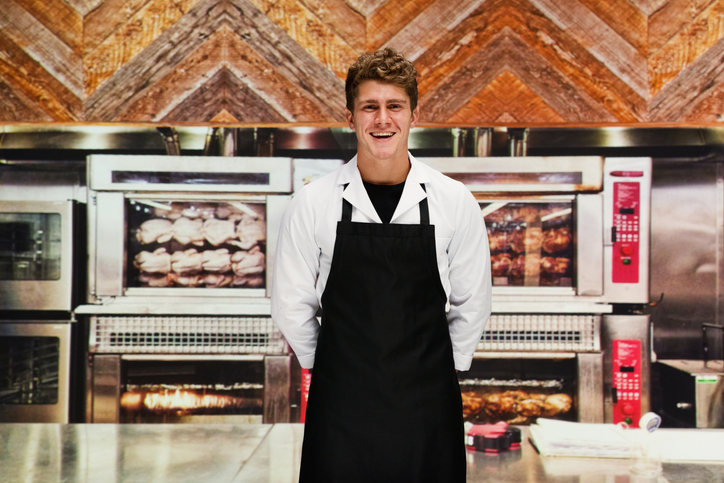 By Joy Stephenson-Laws, JD, Founder
We've all done it. You're in the grocery store, filling your cart with fresh fruits and vegetables and raw grass-fed meat with every intention to go home and cook a nice healthy meal from scratch and then you smell it – the rotisserie chicken. It smells good, and it screams convenience when, in all honesty, you really don't want to cook after a long day of work and other responsibilities.
If I go this route, I purchase my rotisserie chicken from Whole Foods or Gelson's. I was alarmed when I came across an article from NBC's TODAY that discusses how several Costco shoppers noticed that the rotisserie chickens they purchased had an odd chemical taste to them.
"I thought I was losing it/had Covid again when I tried a rotisserie chicken recently and it tasted…chemically and soapy? So odd," said one consumer on Reddit.
"Yes, I've noticed a distinct chlorine-like taste. I've stopped eating it, about a year(?) ago due to the strange chemical taste," said another consumer.
This is certainly unacceptable. According to TODAY, a representative from Costco declined to comment.
Some consumers, and even Costco warehouse and deli workers, believe they may have an explanation for these chemical-tasting chickens.
"In 2019, Costco opened a chicken facility in Nebraska that produces an astonishing 2 million chickens per week to be distributed to its stores. Still, that is only enough to fulfill 43% of its rotisserie supply — and 33% of its raw chicken supply, meaning that some customers' chickens are supplied in other ways," according to the report from TODAY.
Apparently, you could be getting a chicken either from their in-house brand which comes from their processing plant in Nebraska, or you could be getting a chicken raised in California from Foster Farms.
"The foster farm chickens are of lower quality and tend to cook differently than ours. Which is (due to) the fact that they're water cooled while ours are air chilled," said a deli worker.
"If your chicken is gross, it's most likely due to the fact that it's a foster farm chicken."
In my opinion, this still does not explain why these chickens may have a chemical taste to them, but this all motivated me to learn more about these convenient, rotisserie chickens overall and explore if we should really be eating them at all.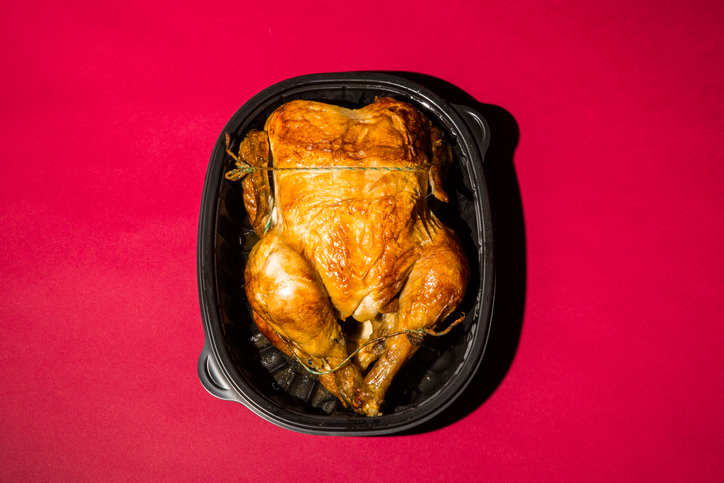 Turns out, we may have to put these birds on the naughty processed foods list.
Processed foods are not in their natural state such as chicken (usually!), fish, egg, broccoli, carrot, grapes, apple, sweet potato (You get the idea. Think one-ingredient foods that come from the land, sea or trees). Processed foods are foods that have been heavily altered with additives and preservatives that greatly prolong their shelf life and make them addictively delicious. There is a reason why you may find it practically impossible to eat just one cookie or not polish off an entire bag of family size (large) chips, and, of course, why those rotisserie chickens at your local grocery store smell so good.
Unfortunately, I believe we have to put these chickens on the processed foods list. The consumption of processed foods has been linked to so many health issues such as heart disease, type 2 diabetes, hypertension, obesity, depression and even cancer. So many of these prepared chickens receive injection solutions containing sugar, high amounts of sodium and processed ingredients and additives that prevent bacterial growth and extend shelf life.
What's really alarming is the amount of sodium these chickens can contain.
One report discusses an investigation by the National Chicken Council.
"According to their investigation, Sam's Club's 'Member's Mark Seasoned Rotisserie Chicken' contained 550mg of sodium in a single 3-ounce serving. Put into perspective, that's about one quarter of your recommended daily sodium intake."
This is extremely concerning, because consuming too much sodium (which many Americans do) is known to contribute to the development of high blood pressure (hypertension).
If you just look at the label on the container of a prepared chicken, you will probably see a list of ingredients you don't even recognize. Ideally, we want to always know what is exactly in the foods we eat and what is going into our bodies.
I don't do it often, but I guess my rotisserie chicken days are over. It most definitely takes more effort (as do most things in regard to making the healthier choice), but preparing your own chicken is the way to go. It's worth it for the taste and for your health. I highly recommend splurging on buying organic, and if you can support a local farmer that's even better.
If roasting the chicken in the oven, stuff the cavity with lemon, garlic and fresh rosemary and thyme. I promise you this will smell better than any prepared chicken in the store. Pair your chicken with some roasted veggies or a green salad, and you have a delicious, nutrient-rich meal.
Remember, it's always important to be an informed consumer and always be curious about what you are eating.
Enjoy your healthy life!
Disclaimer: This article is not intended to provide medical advice. Please consult with your doctor or another competent healthcare practitioner to get specific medical advice for your situation.

The pH professional health care team includes recognized experts from a variety of health care and related disciplines, including physicians, attorneys, nutritionists, nurses, and certified fitness instructors. This team also includes the members of the pH Medical Advisory Board, which constantly monitors all pH programs, products, and services. To learn more about the pH Medical Advisory Board, click here.
Newsletter
Related Products