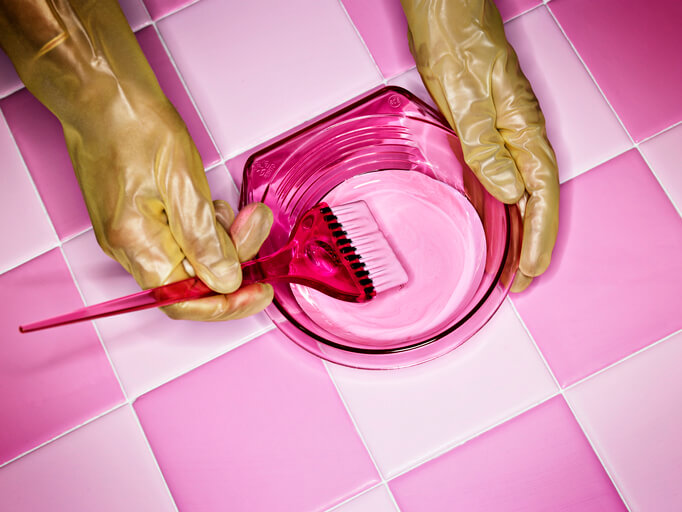 Ditch the Dye.Reduce Your Risk of Breast Cancer?
By Joy Stephenson-Laws, JD, Founder
Lately, actor Keanu Reeves has been getting a fair amount of attention. And it's because of the woman seen regularly by his side at red carpets and other events. This woman is his girlfriend, 46-year-old artist and philanthropist Alexandra Grant.
Back in November, the couple went viral after photos were captured of the two holding hands at the LACMA Art + Film Gala. They reportedly had been dating for months but wanted to keep their relationship private.
People applauded Reeves, who is 55-years-old, for having an "age-appropriate" girlfriend (especially in the Hollywood scene where we are so used to seeing older men with much younger women).
Others praised Grant for her beautiful gray hair.
Recently on Instagram Grant posted:
I went gray prematurely in my early 20's... and dyed my hair every color along the way until I couldn't tolerate the toxicity of the dyes any more. In my 30's I let my hair turn "blonde"...I love and support that every woman can choose how she wants to look at every age. But/and, if woman are perishing from beauty standards... then let's talk about those beauty standards. Love to all women!
Grant posted this after a study conducted by scientists at the National Institutes of Health was recently released. The study, published online in the International Journal of Cancer, found evidence which showed that women who use permanent hair dyes and chemical straighteners have a higher risk of developing breast cancer than those who do not use these products.
The study used data from more than 46,000 women. And according to one report discussing the study, they found that women who regularly used permanent hair dye in the year before participating in the study were nine percent more likely to develop breast cancer.
It appears that black/African American women need to especially be aware.
Among black/African American women, using permanent dyes every five to eight weeks or more was associated with a 60 percent increased risk of breast cancer - compared to only an 8 percent increased risk in white women.
"Many hair products contain endocrine‐disrupting compounds and carcinogens potentially relevant to breast cancer. Products used predominantly by black women may contain more hormonally‐active compounds," according to the study report published in the International Journal of Cancer.
It is important to note that these risks were associated with the use of permanent hair dye, not semi-permanent or temporary dyes. (For more information on different types of hair dyes, read here). The research team found little to no increase of breast cancer with semi-permanent and temporary dyes.
And then there are risks with chemical hair straighteners.
The results revealed that women who used chemical hair straighteners at least every five to eight weeks were around 30 percent more likely to develop breast cancer.
"While the association between straightener use and breast cancer was similar in African American and white women, straightener use was much more common among African American women," according to the first report referenced.
So there you have it. None of this information is definitive, but it certainly makes me think twice about dying my hair. Whether we are blonde, brunette, gray, curly or straight-haired, I think it may be time to embrace it.
As mentioned, semi-permanent and temporary dyes appear to have very little (if any) risk.
How else can we be proactive about reducing our risk of developing breast cancer?
Nutrition is key as well as living an overall healthy lifestyle by exercising, maintaining a healthy weight, not smoking, drinking alcohol in moderation (if at all) and of course getting regular breast exams and mammograms.
For more information about how to be proactive about breast cancer read here.
It is also extremely important to maintain nutritional balance. Schedule routine nutrient tests in order to identify any nutrient imbalances or deficiencies you may have. If the test reveals you have too much or too little of a certain nutrient, a competent healthcare professional can work with you on making the necessary dietary changes and recommend quality supplements if necessary.
Enjoy your healthy life!
The pH professional health care team includes recognized experts from a variety of health care and related disciplines, including physicians, attorneys, nutritionists, nurses and certified fitness instructors. This team also includes the members of the pH Medical Advisory Board, which constantly monitors all pH programs, products and services. To learn more about the pH Medical Advisory Board, click here.
Newsletter
Related Products