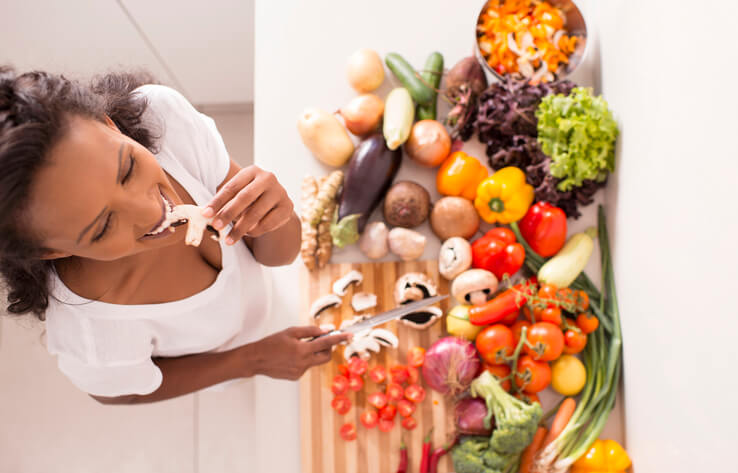 Why African Americans May Benefit the Most From a Vegan Diet
By: Joy Stephenson-Laws, J.D., Founder
Black veganism.
To some, this may sound like an oxymoron. Many people may assume that a black/African American vegan is actually very rare.
But this isn't necessarily true. I recently discovered this website called Black Vegans Rock. This site is essentially a bible for Africans Americans who are vegan or "vegan curious," because apparently, there aren't many resources which specifically cater to black vegans.
One of the contributors to Black Vegans Rock created a list of 100 Black Vegans to Check Out.
You may be surprised to know that Coretta Scott King (wife of Dr. Martin Luther King, Jr.) was reportedly a vegan for more than 10 years before her death. Other black vegans include singer Erykah Badu, Senator Cory Booker, entrepreneur and record executive Russell Simmons and more.
To clarify, a vegan diet is a plant-based diet, completely void of animal foods like meat, seafood, eggs and dairy. Even honey is off the list of acceptable vegan foods. Vegans eat a lot of fruits, vegetables, legumes and whole grains. Eating vegan eliminates many processed foods in the American diet, like donuts and baked goods, which may contain butter, milk and eggs. And, of course, a vegan diet eliminates high cholesterol foods such as red meat.
There are many reasons why some people may go vegan. Some of these reasons may include a concern for the environment, passion for animal rights or even spiritual. But perhaps the biggest reason of all is for better health.
According to a recent study published in The Journal of Nutrition, people who followed a vegan diet were overall healthier with higher levels of unsaturated fats and antioxidants in their blood and lower levels of saturated fats.
Not to mention, a vegan diet, which as mentioned is rich in whole foods such as fruits and veggies, is rich in nutrients (magnesium, zinc, calcium, selenium, copper and vitamins A, C and E - just to name a few) that have protective effects against cardiovascular disease, cancer and other major illnesses.
Furthermore, another recent study from the Journal of the American Heart Association found evidence which showed that plant-based diets are associated with a lower risk of incident cardiovascular disease, cardiovascular disease mortality and all-cause mortality in a general population of middle-aged adults.
So it's pretty clear that diet plays a major role in cardiovascular disease and that eating more plants can definitely lower the risk of CVD. And although the black vegan population is becoming more visible, heart disease in the African American community is a major concern.
Check out these facts and statistics:
Black Americans have a

shorter life expectancy

than whites partly due to higher rates of heart disease and stroke (

American Heart Association

).

African Americans ages 18-49 are

two times as likely

to die from heart disease than whites (

Centers for Disease Control and Prevention

).

African-Americans are

disproportionately affected by obesity

(a major risk factor for heart disease and stroke). Among non-Hispanic blacks age 20 and older,

63 percent

of men and

77 percent

of women are overweight or obese (

American Heart Association

).

African Americans ages 35-64 are

50 percent more likely

to have high blood pressure (another major risk factor for heart disease and stroke) than whites (

Centers for Disease Control and Prevention

).

Around

75 percent

of black men and women develop high blood pressure by age 55, compared to

55 percent

of white men and

40 percent

of white women of the same age (

American Heart Association

).

Nearly

44 percent

of African American men and

48 percent

of African American women have some form of cardiovascular disease that includes heart disease and stroke.
Interestingly, a recent study found that a vegan diet may decrease heart disease and stroke risk in African Americans. Study participants included 50 African Americans who were instructed to only eat prepared vegan meals delivered to their homes for a duration of five weeks.
"A cardiovascular risk calculator was used to assess their risk of heart attack or stroke over the next 10 years," according to one report discussing the study.
"For 36 participants who had pre- and post-diet risk scores, their risk fell by about 19%—from 10.83% to 8.74%."
Although more research is needed (including with a larger population of African American people), this is still a major finding after just five weeks.
Furthermore, the results revealed that a vegan diet in African Americans reduced bad cholesterol levels by 14 percent and the diet reduced systolic blood pressure by 10 points.
In addition to all this, there is evidence that "African-Americans may carry a gene that makes them more salt sensitive, increasing the risk of high blood pressure," according to the American Heart Association.
(Also know that Afro-Caribbeans need to be very mindful of high blood pressure).
A vegan diet really cuts the salt since it eliminates a lot of sodium-rich, processed foods.
So should African Americans jump on the vegan bandwagon?
I wish this question was easier to answer. Diet really needs to be tailored to the individual (despite race, gender and age). Speak with a competent healthcare professional about going vegan if you have existing heart disease or other metabolic or health issues. And, of course, you need to seek advice if you are pregnant or breastfeeding.
If you decide to be vegan, it is imperative to avoid nutritional deficiencies and imbalances. So it is extremely important to get professional advice regarding nutrition and supplementation.
What I can say for sure is that it may be beneficial to at least be a part-time vegan or significantly reduce your consumption of meat. If going 100 percent vegan is too overwhelming at the moment, try going meat-free or dairy-free for one day a week and then increase that to two days a week and then three, etc.
You can also make your portions of meat smaller or aim to not have meat at every meal. Or maybe give up pork and steak and just eat fish and poultry. No matter what you decide, always make nutrient-dense fruits and veggies the "stars" of your plate. Meats and cheeses should play "the supporting roles."
What about the holidays?
It may sound crazy, but the holidays are a great time to adopt healthier lifestyle habits and share them with your loved ones. Add some vegan dishes to the next holiday dinner you host. Check out this older pH blog about how you can make healthy but delicious holiday swaps. And the good news is that with vegan baking, you won't even notice a difference!
For more information on adopting a vegan lifestyle, read here.
Enjoy your healthy life!

The pH professional health care team includes recognized experts from a variety of health care and related disciplines, including physicians, attorneys, nutritionists, nurses and certified fitness instructors. This team also includes the members of the pH Medical Advisory Board, which constantly monitors all pH programs, products and services. To learn more about the pH Medical Advisory Board, click here.
Newsletter
Related Products