Man Killed By Brain-Eating Amoeba. Learn How You Can Be Proactive
5 years ago |
Family Health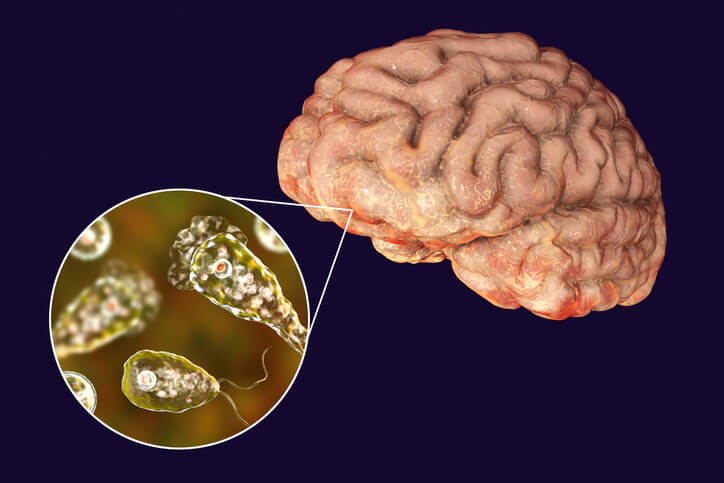 By Joy Stephenson-Laws, JD, Founder
It sounds like something out of a sci-fi movie…
A brain-eating amoeba enters the body of its victim through the nose. And once the amoeba makes its way in, the victim has little chance of survival.
Unfortunately, this is not something out of a sci-fi movie. Recently, a man in North Carolina named Eddie Gray died after being infected with Naegleria fowleri, a single-celled organism known as the "brain-eating amoeba."
Reportedly, Gray was with his church group swimming at Fantasy Lake Water Park (which is a man-made lake) in Cumberland County, North Carolina. The type of amoeba that infected him favors warm freshwater (for example, lakes and rivers that warm up with the scorching hot summer temperatures). The amoeba may also be present in hot springs.
Naegleria fowleri enters the body through the nose when a person goes swimming or diving and "then travels up the nose to the brain where it destroys the brain tissue," according to the Centers for Disease Control and Prevention (CDC). The brain infection this amoeba causes is called primary amebic meningoencephalitis (PAM). This basically causes brain swelling.
The amoeba that causes this infection is more commonly found in southern states (where water tends to be warmer).
Naegleria fowleri is rare but very deadly.
The CDC reports that between 2009 to 2018, there have only been 34 reported infections of Naegleria fowleri, but the fatality rate is over 97 percent.
"Only 4 people out of 145 known infected individuals in the United States from 1962 to 2018 have survived," reports the CDC.
And just because it is rare, doesn't mean it can't happen.
In 2018, 29-year-old Stabile Fabrizio reportedly got infected with the brain-eating amoeba and died after visiting a wave pool at a Central Texas resort.
And in 2016, 18-year-old Lauren Seitz contracted the same infection at a North Carolina whitewater rafting center and died. Also in 2010, a 7-year-old boy lost his life to the amoeba.
Additional key facts about Naegleria fowleri.
"The organism may also be found in warm pools that are not properly chlorinated, and in water heaters, the CDC says. It can live in temperatures as high as 115 degrees Fahrenheit (46 degrees Celsius), and can sometimes survive at higher temperatures for short periods," (

Live Science

).

This amoeba is NOT found in the ocean.

You cannot become infected by swallowing water. (Remember, the amoeba enters the body through the nose). "For an infection to occur, the amoeba must travel through the nose and sinuses to the brain. Then it infects the frontal part of the brain, particularly the olfactory bulbs and cerebral cortex. The amoeba does not intend to infect humans, Yoder [a CDC epidemiologist referenced in the report] said; it normally eats bacteria, but once inside the brain, it multiplies and feeds on brain cells," (

Live Science

).

Early symptoms, which may appear one to nine days after getting the infection, may include headache, nausea, fever and vomiting. Once the infection progresses, a person may experience a stiff neck, confusion, lack of attention to people and surroundings, loss of balance, seizures and hallucinations. "After the start of symptoms, the disease progresses rapidly and usually causes death within about 5 days (range 1 to 12 days)," (CDC).
Has anyone survived the brain-eating amoeba?
Yes. In 2016, a 12-year-old was luckily able to survive the devastating infection this amoeba causes. But remember, survival is usually not the result.
"By nearly all accounts, 12-year-old Kali Hardig should not be alive," according to one CNN report.
"Dr. Sanjiv Pasala, one of Kali's attending physicians, said doctors immediately started treating her with an anti-fungal medicine, antibiotics and a new experimental anti-amoeba drug doctors got directly from the CDC."
However, there is really not an exact known cure or definitive treatment plan for this infection.
The CDC reports, "Several drugs are effective against Naegleria fowleri in the laboratory. However, their effectiveness is unclear since almost all infections have been fatal, even when people were treated with similar drug combinations. Recently, two people with Naegleria infection survived after being treated with a new drug called miltefosine that was given along with other drugs and aggressive management of brain swelling."
So it is somewhat experimental, and the outcome really depends on the person being treated.
So how can we be proactive?
Swim at your own risk. If you are in a southern state at a warm lake or river, it might not be the most ideal time to swim. You have to weigh the risks and make a decision.

If you do decide to swim, try to prevent water from going up the nose. You can wear nose plugs, avoid submerging your head in the water and avoid jumping or diving into the water.

Also avoid digging in or stirring up sediment where the amoeba may be present.

Be aware of

sinus rinsing for health or religious practices

.
Nutrition
When it comes to any infectious disease, it is my opinion that having the strongest immune system possible is always important when it comes to fighting infections.
In order to get your immune system in the best shape possible, it is imperative that you eat a nutrient-rich diet with plenty of fruits and vegetables. Read here to learn about specific vitamins and minerals that may aid in maintaining a strong immune system.
And finally, it is also extremely important to avoid nutritional deficiencies. One of the ways you can do this, in addition to eating a variety of healthy foods, is to get a comprehensive nutrient test to determine whether you have any nutrient deficiencies or imbalances. If you do, you may have to tweak your diet and/or take good quality supplements. A competent healthcare professional can assist you with this.
Enjoy your healthy life!
The pH professional health care team includes recognized experts from a variety of healthcare and related disciplines, including physicians, attorneys, nutritionists, nurses and certified fitness instructors. This team also includes the members of the pH Medical Advisory Board, which constantly monitors all pH programs, products and services. To learn more about the pH Medical Advisory Board, click here.