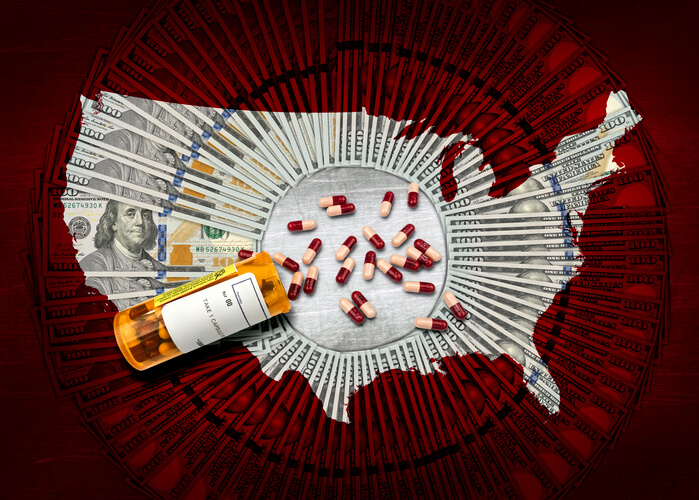 Death of Rising Rap Star Opens Up Discussion Once Again About America's Opioid Epidemic
By Joy Stephenson-Laws, JD, Founder
The recent death of rapper Jarad Higgins, more commonly known by his rap name as Juice Wrld, is hard to digest in more ways than one. Not only because it's incredibly tragic (he was just 21), but the way he died is very complicated and troubling.
Higgins and the people that were traveling with him were on a private plane traveling from Los Angeles to Chicago.
All eyes were on them, as according to several news reports police officers and federal agents suspected they had guns and drugs with them.
They did. And while agents were searching the crew's luggage at a private hangar in Chicago's Midway Airport, Higgins started convulsing and suffered a seizure.
"An agent administered two doses of Narcan, an emergency treatment when opioid overdose is suspected," according to one report.
He later died of cardiac arrest at the hospital.
Allegedly, Higgins swallowed several Percocet pills in an attempt to hide them from the police and agents during the search. Before he got on the plane, he appeared to be in good spirits (which can be seen from video footage).
On the surface, Higgins seemed like just another young and rising star in the music industry. Some may very well dismiss this story because he was participating in some illegal activity and swallowed all those pills. But there is so much more to this story that needs to be addressed.
Alexia Smith, a recent ex-girlfriend of Higgins, said that Higgins was battling depression and would take up to three Percocets a day mixed with "lean," according to this report.
His mother also confirmed his struggles with prescription drug abuse.
"Lean — also known as purple drank, purple lean, sizzurp, dirty sprite, and lean drink—is a combination of prescription-strength cough medicine, soft drinks, and hard, fruit-flavored candy. The prescription cough syrups used to make lean drink present the most danger because they often contain codeine, an opioid drug," reports this American Addiction Centers resource.
Percocet is also an opioid. So as you can probably imagine, taking one opioid on top of another is a recipe for disaster.
Percocet is a combination medication used to relieve moderate to severe pain. It contains both oxycodone (an opioid pain reliever) and acetaminophen (the non-opioid pain reliever that helps reduce fever and found in common over-the-counter drugs such as Advil and Tylenol).
Oxycodone usually works in the brain to change how the body percieves pain.
It is a very powerful drug.
"Due of the risks of addiction, abuse, and misuse, even at recommended doses, Percocet is only prescribed when treatment with non-opioid pain relieving medication has not been tolerated or has not provided adequate pain relief," according to this source.
"This medicine can slow or stop your breathing, and may be habit-forming."
We have previously discussed issues relating to America's opioid epidemic. Unfortunately, Higgins is just one of many stories in which a person dies from opioids. Too many people (especially young people) are dying from taking opioids.
According to the most recent data from the Centers for Disease Control and Prevention (CDC), there were 70,237 drug overdose deaths in the United States in 2017 - opioids were involved in 47,600 overdose deaths in 2017.
Just a few months ago, a community in Washington mourned the death of a 16-year-old boy who reportedly died from taking a Percocet pill laced with fentanyl.
And famous rapper Mac Miller also recently died from fentanyl (combined with cocaine and alcohol). He was just 26-years-old.
How can we be proactive?
In my opinion, we have to acknowledge that mental health issues and depression are often major factors in this opioid crisis. Sometimes people take drugs recreationally and just have an accidental overdose, but more often than not there is something more to the story.
(Famous rock star Chris Cornell died from what appeared to be suicide by hanging. He had an addiction to opioid pain medication and suffered from depression).
Famous or not, people are losing their lives to opioid abuse, and depression seems to be playing a major role. The music industry is tough because parties are everywhere, and drugs are readily available. In this report, the recent ex-girlfriend of Higgins said that people at his record label supplied him with drugs.
If you are a parent to a young child, I think that it is important to discuss these tragic stories with them. They need to know the devastating effects these drugs have and that none of us are immune to the consequences.
If you notice symptoms of depression in your child or notice that he or she is anxious, consider getting them therapy.
Diet is also key. Credible evidence has shown that there is a clear connection between diet and depression. Pro-inflammatory junk foods such as french fries and sweets have been linked to an increased risk of developing depression, and anti-inflammatory nutrient-dense foods such as fruits and vegetables have been connected to better mental health.
Make healthy eating and meal prepping a priority in your home. Educate yourself about specific nutrients such as magnesium, selenium, iron and zinc that may help combat depression. You can read about all of these nutrients and food sources that contain them here.
Finally, schedule routine nutrient tests in order to identify any nutrient imbalances or deficiencies that you or your child may have. Maintaining nutritional balance is key in having good mental health. If the test reveals too much or too little of a certain nutrient, a competent healthcare professional can work with you on making the necessary dietary changes and recommend quality supplements if necessary.
Enjoy your healthy life!
The pH professional health care team includes recognized experts from a variety of health care and related disciplines, including physicians, attorneys, nutritionists, nurses and certified fitness instructors. This team also includes the members of the pH Medical Advisory Board, which constantly monitors all pH programs, products and services. To learn more about the pH Medical Advisory Board, click here.
Newsletter
Related Products