Dick Van Dyke, 96, Works Out. Age Is No Excuse!
With the constant stream of sad news in the world, I want to focus on a story that not only makes me smile but motivates me when it comes to my health journey and practices. Recently, 96-year-old (or perhaps I should say 96-year-young) actor and overall entertainer Dick Van Dyke was seen working out at a gym in Malibu, California. Even better was that he was with his wife (who by the way is 46 years younger than him), and he was wearing a sweatshirt that said "Just a spoonful of sugar," a tribute to that catchy song from one of the most iconic movies he starred in - Mary Poppins.
I don't know about you, but I want to be like Dick Van Dyke when I grow up!
According to one report, Van Dyke said that he goes to the gym three times a week. He also said he has always been into exercise and does a variety of activities such as water aerobics, lifting weights and walking. Not to mention, having good genes and a much younger wife also helps (according to Van Dyke)!
Before you go thinking that having lots of money and "good genes" makes it easy for Van Dyke to be fit at nearly a century old, remember the following saying. "We don't stop moving because we grow old. We grow old because we stop moving."
It is time to redefine what it means to age. Getting older does not have to be associated with fragility and disease. Obviously, Van Dyke probably cannot move and dance like his 20-year-old self, but it is evident that maintaining an active lifestyle has allowed him to be mobile and youthful at such an old age.
Most Americans spend more than eight hours a day sitting down. A sedentary lifestyle (not just simply getting older) has been linked to a variety of health problems including obesity, fatty liver disease, diabetes, cardiovascular problems and even premature death.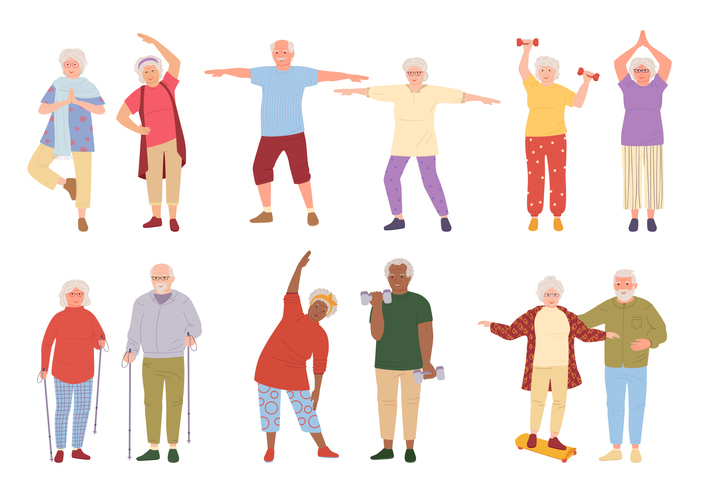 If you need more "older people fitspo..."
You are never too old to start exercising. If you are young, I hope this inspires you to maintain an active lifestyle.
Exercise for your bones and muscles.
Our bones and muscles are what enables us to be mobile, independent, live a quality life and be youthful. According to the American Academy of Orthopaedic Surgeons (AAOS), most people will reach their peak bone mass, meaning maximum bone size and strength, between the ages of 25 and 30. By age 40, we slowly begin to lose bone mass. Sarcopenia, which is age-related muscle loss, can begin as early as 35-years-old and from there generally occurs at a rate of one to two percent per year, reports Harvard Health. After age 60, this can increase to three percent per year.
The good news is you can preserve your bones and muscles by exercising and eating a healthy, nutrient-rich diet. Keep in mind that if you are older, you may need more protein.
When it comes to exercise, you do not have to be extreme or put a lot of pressure on yourself. Do things you enjoy. If you have pain or disabilities, speak with a competent healthcare practitioner about what exercises you can do. For example, if you are in a wheelchair perhaps you can focus on upper body strength or do knee lifts and toe taps if you are able to move your lower body. If you have bad back pain, yoga might be a good option for you.
If you are still hesitant or worried because of your age, I highly recommend checking out "When It Comes to Exercise, There Is No Such Thing As 'Age Appropriate.'"
Despite your age, it is important to fuel your body properly for working out so that you can perform well and recover efficiently after you exercise. You may also want to get a comprehensive nutrient test. This is the only way to know where you stand nutritionally. And if you are imbalanced, you can make relevant tweaks to your diet and consider taking good quality supplements.
I hope this motivates you to get moving today if you haven't already.
Enjoy your healthy life!
The pH professional health care team includes recognized experts from a variety of health care and related disciplines, including physicians, attorneys, nutritionists, nurses, and certified fitness instructors. This team also includes the members of the pH Medical Advisory Board, which constantly monitors all pH programs, products, and services. To learn more about the pH Medical Advisory Board, click here.
Newsletter
Related Products