Men, You Need to Take This to Heart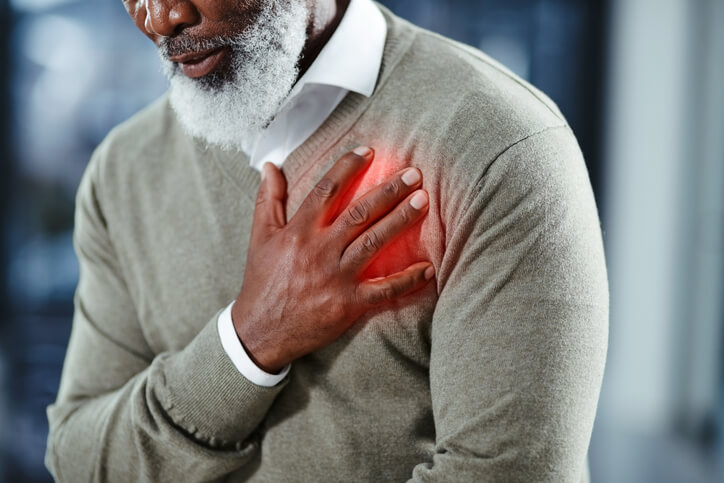 Men, You Need to Take This to Heart
By Joy Stephenson-Laws, JD, Founder
Take a look at the following three stories and see if you can identify three things the main subjects have in common.
Here are the stories:
A singer named David Olney, 71, recently died while performing on stage at a music festival in Florida. According to

one report

, he appeared to have died from a heart attack.

During the Chevron Houston Marathon that took place on Sunday, January, 19, 2020, a 74-year-old runner named

Harry Vroulis

reportedly

died of a heart attack around the time he reached mile 16. "He was very meticulous," his brother said. "He went to every doctor in town three weeks prior, including cardiology stress tests." His brother said that the tests came back clear.

Dwayne "The Rock" Johnson's father, Rocky "Soul Man" Johnson (who was a famous professional wrestler), just recently passed. "A lot of you wanted to know what happened to my dad. He had not been feeling well and had been battling a cold and infection. And on Tuesday he had a deep vein thrombosis which is essentially a blood clot in his leg," according to Dwayne Johnson, referenced in

this report

. He said the blood clot traveled to his father's lung and caused a "massive heart attack." The Rock's father was 75.
You see the three things in common?
All men.

In their seventies.

Cause of death, heart attack.
There is no shortage of pH Labs blogs discussing heart disease, but I think it's worth adding yet another one to the board considering heart disease is still the leading cause of death for both women and men in the United States.
According to the Centers for Disease Control and Prevention (CDC), someone has a heart attack every 40 seconds in the United States.
Although it's a relatively even playing field when it comes to how much heart disease affects both women and men, I brought to your attention the commonalities in the three stories discussed above because there is evidence which shows that men develop heart disease on average 10 years earlier than women do.
Furthermore, the University of Michigan reports that men are at a greater risk of having heart attacks as well as having heart attacks earlier in life.
"Far more men than women are smokers — and they lack the estrogen that helps protect women from heart attacks at a younger age," Michigan reports.
"Compared with premenopausal women of the same age, men typically have higher blood pressure. High blood pressure forces the heart to work harder, raising the likelihood of cardiovascular disease over time."
Be Proactive.
If you're a man, you may not know that having erectile dysfunction is "...often an early warning sign of heart disease or other circulatory problems," (Harvard Health).
"From a purely mechanical perspective, an erection is a hydraulic event—extra blood must be delivered to the penis, kept there for a while, then drained away. An erection may not happen if something [such as heart disease] interferes with blood flow to the penis."
Reportedly, about 40 percent of men are affected by erectile dysfunction at age 40 (nearly 70 percent are affected at age 70). So if you are a young man and suffer from erectile dysfunction, you can address this and seek the advice of a competent healthcare professional in order to see if it is a sign of heart disease. If it is (or if you have existing metabolic health issues such as diabetes, hypertension or high cholesterol), you can start to take the proactive steps necessary to fight this.
Not surprisingly, as with most issues with our health are interconnected, the steps necessary to help prevent erectile dysfunction may also be the necessary steps to help prevent heart disease.
If you

smoke

, quit immediately. And if you drink

alcohol

, drink in moderation. Smoking damages blood vessels, and damaged blood vessels can increase the risk of developing erectile dysfunction and heart disease. Excessive alcohol consumption may reduce sexual performance and can lead to some

serious cardiovascular health risks

.

Maintain a healthy weight or, more importantly, a

healthy body composition

. Being overweight or obese as well as having too much of your body being composed of fat increases the risk of a whole slew of health issues such as

cancer

,

depression

,

diabetes

,

hypertension

,

heart disease

and

erectile dysfunction

. So

exercise regularly

, avoid

ultra-processed foods

and follow a nutrient-rich diet with plenty of fresh

fruits and vegetables

. Also be aware of these

key specific nutrients

that may help fight heart disease, and be sure to take routine

nutrient tests

in order to identify and address any nutrient imbalances or deficiencies.
For men, it is also important to be aware that having low testosterone may contribute to heart disease.
Of course, proactive steps like eating healthily, exercising and combating metabolic issues are steps women should take as well in order to also help prevent heart disease.
Let's make 2020 the year heart disease is no longer the leading killer of both men and women in the United States.
Enjoy your healthy life!
The pH professional health care team includes recognized experts from a variety of health care and related disciplines, including physicians, attorneys, nutritionists, nurses and certified fitness instructors. This team also includes the members of the pH Medical Advisory Board, which constantly monitors all pH programs, products and services. To learn more about the pH Medical Advisory Board, click here.
Newsletter
Related Products