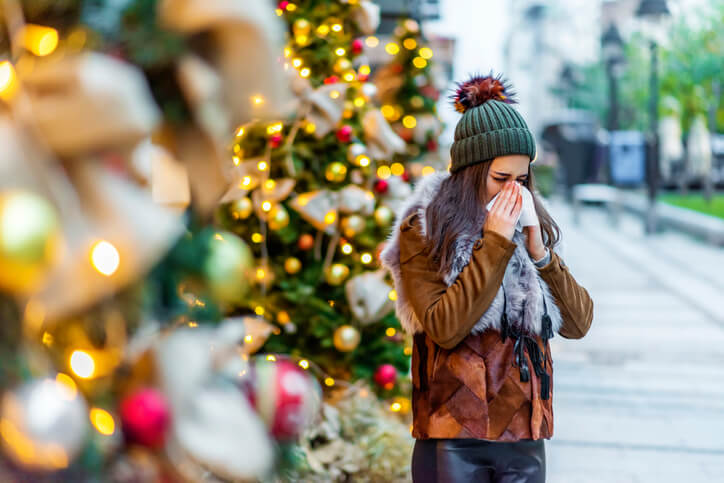 Having a Cough or Sneeze this Holiday Season Could Be More Than Just a Cold. It Could Be Pneumonia.
By: Joy Stephenson-Laws, J.D., Founder
Recently, Oprah Winfrey shared on Instagram her experience with a health scare that really caught my attention. The social media post says that one day back in August, Oprah left a meeting feeling fatigued. During her ride home, she started to feel a bit of pain in her kidney.
"The pain kept coming and leaving until she was doubled over, crying the next day," according to the Instagram post.
She went to the emergency room where she was diagnosed with pneumonia.
I'm pretty sure that we've all heard of pneumonia, but I'm not confident that we all understand the seriousness of this infection. According to the Centers for Disease Control and Prevention (CDC), influenza (the flu) and pneumonia (which is sometimes caused by the flu virus) are some of the leading causes of death in the United States.
According to one report, while making an appearance on The Ellen DeGeneres Show, 65-year-old Oprah said she just thought she was just battling the common cold after making a trip overseas.
"Pneumonia is nothing to play with, y'all," she said.
"It is very serious. I was on antibiotics for a week and the antibiotics weren't working. And then I go back for another CT scan and they go, 'It's actually worse. You should see a lung specialist."
The doctor advised that she "cancel everything" and not fly for at least a month.
Finally, with the right antibiotics and the use of a special inhaler, Oprah was healthy again.
"Don't play with it. Get your flu shots and get your pneumonia shots. It's nothing to play with," she said.
So what exactly is pneumonia?
In a nutshell, pneumonia is a lung infection (cases of this infection can range from mild to severe). To be more specific, this infection causes inflammation in the lungs air sacs (called alveoli). Pneumonia may cause these air sacs to be filled with fluid or pus which may cause cough, fever, chills and issues with breathing (American Lung Association).
What causes pneumonia?
Pneumonia may be caused by bacterial infections, viral infections (such as the flu) and even fungi. Bacterial pneumonia is the most common type, and the most common type of bacterial pneumonia is called pneumococcal pneumonia. And this type of pneumonia is caused by Streptococcus pneumoniae bacteria (from the same family of bacteria that causes strep throat).
The most vulnerable?
Cases of pneumonia can be particularly dangerous in infants, young children (under the age of five) and adults older than 65 (keep in mind Oprah is 65 and will be 66 in January). People who already have compromised immune systems are also more at risk of complications and death from having pneumonia.
Symptoms of pneumonia include fever and chills, cough, rapid breathing or difficulty breathing and chest pain. As mentioned, Oprah though she had the common cold.
Furthermore, "Older adults with pneumococcal pneumonia may experience confusion or low alertness, rather than the more common symptoms…," (Centers for Disease Control and Prevention (CDC)).
The CDC reports that each year in the United States more than 250,000 people have to get medical care in a hospital due to having pneumonia. In addition to this, around 50,000 people in the U.S. die from pneumonia each year.
How can we be proactive?
Some people are opposed to vaccinations. We have seen evidence of this with measles and the anti-vaccination movement which majorly contributed to a serious measles outbreak. And some people don't want to get flu shots, believing that the shot will actually make them sick.
I wish I had a definitive position regarding whether someone should get vaccinated or not. (I think when it comes to measles, the evidence seems clear that the risks of vaccination is outweighed by the benefits). You can also learn more about who should get flu shots in our earlier blogs.
Now with pneumonia, the CDC lists vaccination recommendations which you can read about here. It is important to note that there are two vaccinations that may be recommended for adults over the age of 65. These vaccinations cannot be given at the same time.
As always, consult with a competent healthcare professional about what vaccinations are personally best for you.
You can pretty much relate any health issue on the planet to smoking.
"Tobacco damages your lung's ability to fight off infection, and smokers have been found to be at higher risk of getting pneumonia. Smokers are considered one of the high-risk groups that are encouraged to get the pneumococcal vaccine," reports the American Lung Association.
It's amazing what proper handwashing can do.
"About 1.8 million children under the age of 5 die each year from diarrheal diseases and pneumonia, the top two killers of young children around the world," reports the CDC.
"Handwashing with soap could protect about 1 out of every 3 young children who get sick with diarrhea and almost 1 out of 5 young children with respiratory infections like pneumonia."
Wash your hands with warm, soapy water for at least 20 seconds. Be mindful of touching public restroom door handles (use a paper towel to open if possible). Also try to avoid touching your mouth, eyes and nose as this may make you more susceptible to germs that can make you sick and cause you to develop pneumonia.
Take care of your immune system with the right nutrition.
Your white blood cells play a critical role in your fight against the flu and other viruses and infections that could lead to pneumonia. Think of your white blood cells as being "immune system cells." You want to have the optimal number of these cells to ensure you are in the best position to combat viruses and infections.
A great way to be proactive about making sure you have plenty of these white blood cells is by making sure you get an adequate intake of nutrients such as zinc, selenium and vitamins B9, B12, C and E.
To learn more about these nutrients and healthy food sources where you can get them, read here.
Also know that water is an extremely important nutrient for immune function. Water helps carry oxygen to cells in the body, and oxygenated cells are necessary for systems in the body, like the immune system, to function properly. Water also helps flush toxins out of the body that can cause infections.
Clean and disinfect surfaces in your home that are touched a lot. And don't forget your keyboard at work! Along with practicing good hand washing techniques (remember, at least 20 seconds), always sneeze or cough into a tissue or your elbow. Never in your hand!
If you are diagnosed with pneumonia, you will likely have to take a round of antibiotics. Always finish your antibiotics, and click here to learn about how to take care of your gut when taking antibiotics.
Now that we are in the thick of the holidays, you really want to take these proactive steps seriously since you may be on planes and coming into contact with more people than usual.
Schedule routine nutrient tests in order to identify any nutrient imbalances or deficiencies you may have. If the test reveals you have too much or too little of a certain nutrient, a competent healthcare professional can work with you on making the necessary dietary changes and recommend quality supplements if necessary.
Taking advantage of IV vitamin drips or injections is also a great way to boost your immunity (especially during the holiday season travel).
I take advantage of these drips at the pH Drip Lab on a monthly basis to boost my immune system and address my inevitable nutrient absorption issues with vitamin C. At the pH Drip Lab, we offer all sorts of vitamin "cocktails." My go-to is the "Pick Me Up Buttercup," which is an injection of 1,000 mg of vitamin C. I believe this has successfully boosted my immunity, energy and good health.
Finally, err on the side of caution. If you think you have pneumonia or "a cold that seems worse than usual," seek medical advice. It is always better to be safe than sorry. And the sooner a case of pneumonia is addressed, the quicker the recovery and the better the outcome will likely be.
Enjoy your healthy life!
The pH professional health care team includes recognized experts from a variety of health care and related disciplines, including physicians, attorneys, nutritionists, nurses and certified fitness instructors. This team also includes the members of the pH Medical Advisory Board, which constantly monitors all pH programs, products and services. To learn more about the pH Medical Advisory Board, click here.
Newsletter
Related Products