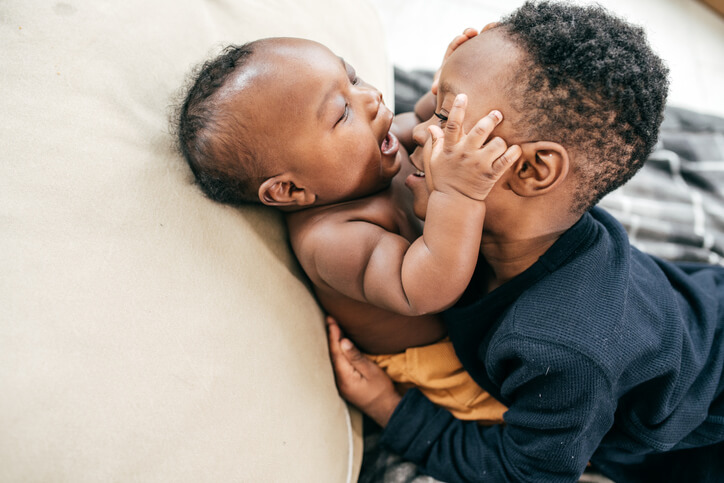 Study Shows Children with Siblings Tend to Live in Healthier Households.
By: Joy Stephenson-Laws, J.D., Founder
I usually hear young couples who plan to have families say this all the time: We have to have more than one kid. I want my kids to have a sibling so that they always have someone around to play with.
Well in addition to the benefit of having a 24/7 play pal on hand, turns out that children with one sibling or multiple siblings may have a health advantage over children who do not have siblings.
A recent study found evidence suggesting that families "with multiple children tend to make more healthy eating decisions than families with a single child," according to one report discussing the study.
When I read this, I was honestly surprised. One would think the more children, the more chaos and, therefore, the more challenging it would be to take the time to prepare healthy meals on a consistent basis.
Contrarily, researchers of the study, published in the Journal of Nutrition Education and Behavior, discovered that only children, who they called "singletons," had less healthy family eating practices as well as beverage choices. In addition to this, the only-children had lower Healthy Eating Index scores.
The study was conducted in the following manner:
Mothers of the families kept daily food logs over the course of three days (which included two weekdays and one weekend day). The teachers of the children also kept food logs of what the kids ate while at school. In addition to this, mothers also completed the Family Nutrition and Physical Activity questionnaire. This questionnaire evaluates family eating patterns such as food and beverage choice.
The Results?
"Researchers found mothers of singleton children were more likely to be obese themselves. Moreover, maternal BMI had a much stronger connection to child BMI percentile and waist circumference percentile than singleton status," according to the report discussing the study.
(A very accurate method of determining obesity, some might say even better than body mass index (BMI), is by measuring waist circumference).
"Maternal BMI did not significantly contribute to overall eating patterns but did contribute to empty calories."
(Empty calories are calories that usually come from nutrient-void processed foods such as candy, potato chips and cakes).
It is important to note that the study did not take into account the impact of the fathers' eating patterns in regards to the kids' obesity status, however, the results were independent of marital status.
"The study also found that time spent in away-from-home care like school and daycare was not connected to children's eating patterns."
What appeared to make all the difference, were certains factors within the household such as:
How often the family ate meals in front of the television (sometimes doing this distracts you from knowing how much you are eating)

The amount of sugary drinks consumed
There are still many unanswered questions as to why overall children in households with siblings appeared to have healthier eating patterns, but the research team in this study wants to continue to develop this research more "specifically into household and family dynamics and how they influence children's eating behavior, physical activity, sleep, and other factors contributing to obesity."
Of course, this all doesn't mean that only-children are doomed healthwise or that you have to have more children than you and your partner intended.
The reality is, siblings or no siblings, we all have to be proactive in fighting childhood obesity.
The incidence of childhood obesity in the United States has more than tripled since the 1970s. Currently, one in five school-aged children (ages 6-19) are obese. In addition to this, approximately one-third of American youth are overweight. And if our children are overweight or obese, the more likely they are to remain so as adults, which may increase their risk for a variety of diseases, including heart disease, cancer, depression and diabetes.
The good news is that there is a lot we can do to be proactive:
Finally, in order to tackle the childhood obesity epidemic, it is important to make sure that our kids are nutritionally balanced. Have your child take routine comprehensive nutrient tests. If the test reveals your child has too much or too little of a certain nutrient, a competent healthcare professional can help with making the necessary dietary changes or recommend quality supplements if necessary.
Enjoy your healthy kids and your healthy life!
The pH professional health care team includes recognized experts from a variety of health care and related disciplines, including physicians, attorneys, nutritionists, nurses and certified fitness instructors. This team also includes the members of the pH Medical Advisory Board, which constantly monitors all pH programs, products and services. To learn more about the pH Medical Advisory Board, click here.
Newsletter
Related Products