Herbs & Spices! The Secret To Getting Kids to Eat More Veggies
6 years ago |
Nutrition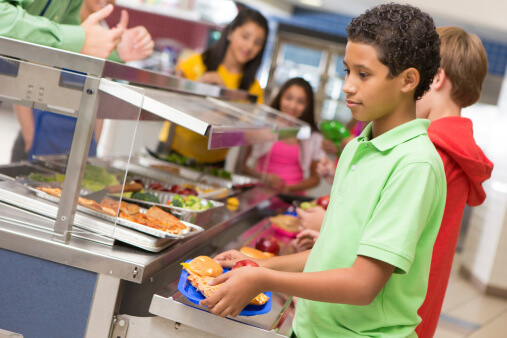 By Joy Stephenson-Laws, JD, Founder
We send our kids to school, hoping that they will attain the skills and knowledge they need to become successful, thriving and healthy adults. But our schools historically have not exactly received an A+ rating for providing healthy information and meals. And kids will have difficulty being truly successful as adults if they don't have the tools and information to stay healthy.
According to one report, "the foods children eat at school influence their lifelong eating habits, so it is essential that school foods are healthy and built around fruits, vegetables, and whole grains."
Fortunately, there are now federal laws that require schools to uphold a certain standard when it comes to providing healthy foods in school cafeterias. For example, the National School Lunch and School Breakfast Programs "requires most schools to increase the availability of fruits, vegetables, whole grains, and fat- free and low-fat fluid milk in school meals; reduce the levels of sodium, saturated fat and trans fat in meals; and meet the nutrition needs of school children within their calorie requirements."
However, kids are still reluctant to eat vegetables and schools may need to take extra measures to make sure kids are eating their veggies at school.
The 2015–2020 Dietary Guidelines for Americans recommends adolescents aged 14 to 18-years-old  eat 2.5 to 4 cups of vegetables daily. But "analysis of current consumption patterns, however, suggests that only ∼2.1% of American adolescents meet these recommendations," according to a recent study.
The study supports the finding that "vegetable consumption in youth is below recommendations and strategies to increase intake at school are needed."
The truth is, some kids just do not like the way vegetables taste. "Many vegetables contain bitter or sour qualities, and also lack sweetness which is a key factor for acceptance among children," says the study.
And there is even evidence that some of us may be more genetically predisposed to not liking vegetables!
The good news is that the solution to getting kids to enjoy eating their veggies in schools may be as simple as adding more seasoning to vegetables. There are many delicious herbs and spices to choose from too.
"Herbs and spices provide flavor without adding significant energy, sugar, saturated fat, or sodium. They have been used globally for centuries to add flavor to cuisine or for the treatment of disease prior to modern medicine," according to the study.
Perhaps you've read our previous articles about various herbs or spices, like parsley which may help regulate blood pressure and build strong bones and sage which may help with diabetes. Pair nutrient-rich herbs and spices with nutrient-rich vegetables, and you've 'got yourself' a nutrition powerhouse that tastes delicious.
The recent study used student participants from a rural high school. Participating students were involved in focus groups and were asked current opinions on school vegetable preparations and preferred seasonings for raw and cooked vegetables.
"Also, students tasted and discussed several vegetable recipes, including cinnamon carrots, Asian carrots, Mexican black beans, Asian black beans, and dill-seasoned broccoli."
"Using the information learned in the focus groups, eight final recipes were developed for use with common and accessible vegetables served within school lunch programs; broccoli, green beans, cauliflower, sweet potatoes, a black beans and corn blend, carrots, a green peas and corn blend and a seasoned Greek yogurt dip served with raw vegetables. All recipes included blends of herbs and spices tailored to each vegetable."
Specific spices and herbs included in the recipes were oregano, cayenne, garlic powder, minced garlic, onion powder, paprika, cumin, dill weed, black pepper, coriander, parsley and ginger.
Approximately 100 students participated in vegetable taste tests with these herbs and spices.
As far as knowledge of herbs and spices were concerned, most students were familiar with cinnamon (92% of surveyed students), garlic powder (86%), black pepper (82%), chili powder (79%), oregano (76%), and basil (74%). Herbs and spices least familiar to students were cumin (13%), allspice (16%), curry (23%) and sage (23%).
The most-liked seasonings were oregano (98% of students who marked familiarity), cinnamon (96%), garlic powder (94%) and black pepper (93%). Even among students who reported familiarity, the least liked herbs and spices were curry (50%), cloves (50%) and allspice (50%).
When the students were asked: "What can be done to increase the amount of vegetables you eat in the school cafeteria?" -- several responses (22.6%) were that they wanted veggies to taste better and have more seasonings.
"Collectively, these data suggest that small additions of herbs and spices are an effective strategy to increase students' preferences for some vegetables," the study says.
I think this is a very informative study, because it shows us that it's not just enough to put a plate of vegetables in front of our children and require that they eat them. We have to also be proactive about demonstrating to them how healthy food can be delicious and how they can prepare veggies in a way that is tailored to their personal liking.
If we teach children how to enjoy and prepare vegetables while they are young, they are more likely to remember this information as adults and routinely include vegetables in their diet. If you can instill in your child that healthy eating can be delicious before they go to college, then you are helping them be successful and healthy adults.
Finally, it is also important to remember that vegetables contain a myriad of minerals, vitamins and other critical nutrients that we need to fight diseases, feel happy and live long and healthy lives. So it is extremely important that we make the effort to find a way to incorporate them into the diets of our kids. Remember, the secret to raising healthy kids starts in the kitchen.
Enjoy your healthy life!
The pH professional health care team includes recognized experts from a variety of health care and related disciplines, including physicians, attorneys, nutritionists, nurses and certified fitness instructors. This team also includes the members of the pH Medical Advisory Board, which constantly monitors all pH programs, products and services. To learn more about the pH Medical Advisory Board, click here.