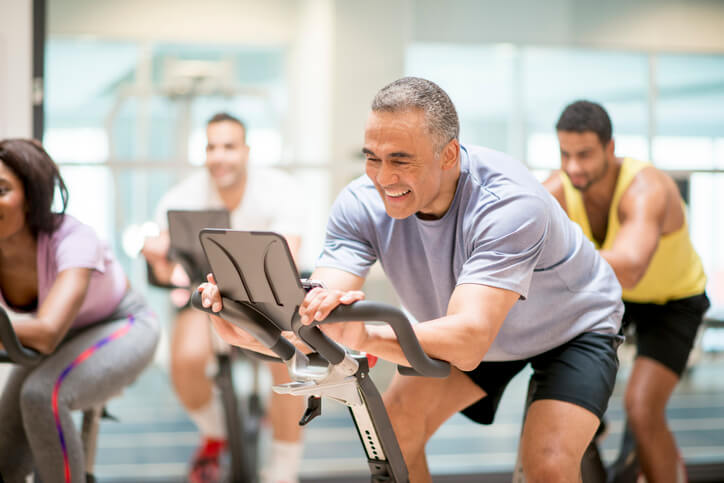 Exercise May Be the Best Contender in Fighting Prostate Cancer
By Joy Stephenson-Laws, JD, Founder
Recently, a young man named Nick Butter, 30, reportedly ran 26.2 miles in all 196 countries around the globe. It took him about two years and 10 million steps.
After meeting a fellow runner back in 2015 at a marathon who shared that he was dying from prostate cancer, Butter decided that he was going to take on this crazy feat of running around the world in order to raise money and awareness for prostate cancer.
"He just showed me the power of doing what you love, and not waiting for a diagnosis to do it," Butter said about his friend and inspiration, in one report.
Although this may be taking it to the extreme (to say the least), it's actually quite appropriate that Butter used running (a form of exercise) to raise awareness about prostate cancer.
I say this because a recent study found evidence which suggested that being active reduces the risk of prostate cancer.
Other than skin cancer, prostate cancer is the most common cancer in American men, according to the American Cancer Society. The Society estimates that in 2019 there will have been 174,650 new cases of prostate cancer and 31,620 deaths from prostate cancer. Furthermore, about one out of nine men will be diagnosed with prostate cancer in their lifetime.
Average age of diagnosis is around 66, and in about six cases of prostate cancer diagnosis out of 10, the men are 65 and older. Prostate cancer is pretty rare in men under the age of 40.
"Prostate cancer can be a serious disease [especially if it spreads to other parts of the body], but most men diagnosed with prostate cancer do not die from it. In fact, more than 3.1 million men in the United States who have been diagnosed with prostate cancer at some point are still alive today," reports the American Cancer Society.
Rock star Rod Stewart, 74, recently shared with the public his three-year battle with prostate cancer. According to this CNN report, Stewart said he is now "all-clear" and attributes this to catching it early.
As always, prevention is better than cure. And the recent study mentioned earlier which is "[t]he largest ever study to use genetics as a measurement for physical activity to look at its effect on prostate cancer, reveals that being more active reduces the risk of prostate cancer," according to one report discussing the study.
The study included more than 140,000 men - 80,000 of the men had prostate cancer.
"It [the study] found that people with the variation in their DNA sequence that makes them more likely to be active, had a 51 percent reduced risk of prostate cancer than people who did not have this particular variation. Importantly, the findings relate to overall physical activity, not just intense exercise."
In my opinion, it's not really much of a surprise that the researchers found evidence that being active may reduce prostate cancer risk. Afterall, there is evidence that exercise may reduce many different types of cancer, including breast and colon.
But perhaps what is surprising is how much of an impact exercise may have on prostate cancer risk (a 51 percent reduced risk is a very big deal). In addition to this, the researchers examined the effects of 22 risk factors on prostate cancer. The results for physical activity were "the most striking."
Men, if you don't have the DNA sequence that makes you more likely to be physically active (which you can find out through whole genome sequencing), don't worry. Your genes are not your health destiny!
Now that you know how critically important exercise may be in keeping your prostate healthy, get moving! And if you are a black/African-American male, know that you are not only more likely to develop prostate cancer but you are also more likely to die from low-grade prostate cancer.
Speak with a competent healthcare professional about which exercises are best for you, and read here to learn about critical nutrients that will properly fuel your body both before and after exercise.
How else can you be proactive about prostate cancer?
Screening and other tests for detecting prostate cancer are key. Of course, smoking should be avoided at all costs. And just maintaining an overall healthy lifestyle by eating healthily and maintaining a healthy weight are very important.
The impact diet may have is invaluable. You can read detailed information about diet and prostate cancer in addition to what the signs of prostate cancer are in an older pH Labs blog here.
And don't forget to take routine nutrient tests. It is also extremely important to maintain nutritional balance in order to help prevent prostate cancer.
If the test reveals you have too much or too little of a certain nutrient, a competent healthcare professional can work with you on making the necessary dietary changes and recommend quality supplements if necessary.
Enjoy your healthy life!
The pH professional health care team includes recognized experts from a variety of health care and related disciplines, including physicians, attorneys, nutritionists, nurses and certified fitness instructors. This team also includes the members of the pH Medical Advisory Board, which constantly monitors all pH programs, products and services. To learn more about the pH Medical Advisory Board, click here.
Newsletter
Related Products